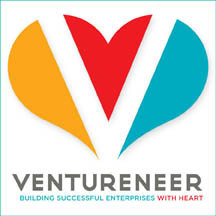 We're especially focusing on fundraising, advocacy and cause-marketing.
New York, NY (Vocus) August 10, 2010
A new tool to provide practical know-how, based on real-world experience will soon be available to nonprofit leaders who are using or want to use social media. Ventureneer and Caliber are partnering to conduct a survey, from which data will be compiled on which social media are most effective by nonprofit sector, by size of organization, by purpose, and what best practices are for nonprofits using social media.
The survey will delve into types of social media used, effectiveness, time spent on social media, and how important social media are in successful nonprofit marketing and outreach plans.
Geri Stengel, founder of Ventureneer, views the survey as a collaborative learning. "Results will be analyzed for best practices that will help nonprofits increase their effectiveness and efficiency using social media," Stengel said. "We're especially focusing on fundraising, advocacy and cause-marketing."
Stengel's own success with social media, as well as her background as a social entrepreneur and consultant to nonprofits make her well-qualified to extract the useful nuggets from the survey data. Her own business, Ventureneer, has been cited in Marketing in Web 2.0 World, by Peter VanRysdam, as a case study in effective use of a website, and in Twitter Marketing: An Hour a Day, by Hollis Thomases, for her use of Twitter in launching the Ventureneer brand.
Social media marketing has proved its usefulness to some. "DoSomething.org promotes teen volunteerism. Facebook was a given. But, Twitter worked too. Together they generate 10 to 15 percent of website traffic," according to the site's official Social Media Guy, Jimmy Chen.
"As part of the Minnesota Council of Nonprofit's 2009 Give to the Max Day, Courage Center, a rehabilitation center for people with disabilities ranked in the top 10 for online giving, raising more than $72,000," said Sue Warner, communications specialist.
"It's not a question anymore of whether foundations, as well as the organizations they support, should engage in social networking, but rather how to effectively employ these tools," said Bruce Trachtenberg, executive director of the Communications Network, a national nonprofit that promotes the effective use of communications to advance philanthropy.
The purpose of the survey is to find out what organizations like DoSomething.org are doing right and pass that knowledge on.
Survey participants will be solicited through ... social media, of course: tweeting, posting on LinkedIn Discussion groups, and on Facebook. Ventureneer and Caliber will also use their own contacts lists to elicit responses.
The hope is that the survey will be passed from one nonprofit to another. "The more respondents we have, the more useful the survey results will be to everyone," Stengel said. "Please, pass it on!"
"We have all seen social media become more popular over the past few years within the nonprofit sector," said Brittany Hill, Caliber's chief media strategist. "As an industry, we are now in what we would call 'Social Media 202'. Let's delve deeper and learn more about how the medium is being used, what it's being used for, how to best measure and integrate it into overall fundraising and branding strategies."
To encourage participation, all respondents will be entered in a raffle to win a $50 Amazon gift certificate.
The survey closes August 20.
Questions the data will help answer include:
*How does an organization's culture impact the way it will best learn to use social media best?
*How can an organization use this knowledge to improve its use of social media?
*Which social media are working and for which purposes and by whom?
*What are the best practices policies for using social media?
*What are the obstacles to using social media and how can they be overcome?
The results will be available at no cost, another example of collaboration.
About Ventureneer
Ventureneer.com provides non profit and small business advice as well as entrepreneurial and non profit training through a new approach to learning: a blend of traditional, formal instruction with informal, peer learning that takes advantage of Web 2.0 technology to capture and share knowledge. Ventureneer's customized blogs, virtual classes, peer-to-peer learning, coaching, web events and articles help entrepreneurs make faster, better decisions for their enterprises.
About Caliber
Caliber is a corporate alliance consulting firm focusing on hospitals and health care organizations. Caliber specializes in creating targeted marketing campaigns and strategic alliances that take organizations to a level where cause marketing and corporate alliances are so smartly integrated across disciplines that they have a positive effect on every aspect of marketing and development. Caliber advises clients around the country on Social Marketing, Business Development, Non-Profit Marketing and Communications, Advertising and Design, Event Planning, and Management and Media Relations. Whether its infusing fresh thinking and sophisticated strategies to better ignite what already exists, or designing targeted solutions that engage key constituents and trigger activation, Caliber helps their clients see differently and achieve more.
###