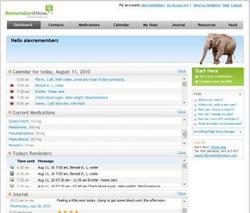 Drugs don't work in patients who don't take them.
Orinda, CA (PRWEB) August 12, 2010
RememberItNow! recently demonstrated their patient-centric medical adherence software to the Tennessee U.S. Office of eHealth Initiatives as part of an extensive enterprise medication management request for information (RFI)
The RFI is being led by the state of Tennessee Office of eHealth Initiatives (OEHI), with participation by Alabama, California, Colorado, Georgia, Maine, Missouri, New York, North Carolina, and South Carolina. Information obtained through this RFI will be shared among participating states to encourage complimentary development of services across multiple states.
Improving medication management is a complex challenge, with high costs to patients, families, employers, insurers, and government agencies. The Journal of American Pharmacy Association has estimated the cost of noncompliance at $177 billion. Other reports put the cost of non-compliance closer to $300 billion.
The purpose of the RFI is to investigate the market for enterprise medication management and eHealth technologies. Will Rice, executive director of the Office of e-Health Initiatives, State of Tennessee, said, "Through our RFI, our states are exploring the current state of the marketplace regarding medication management services. As a means of enhancing patient safety by providing a more secure, accurate and informed prescribing process, we continue to evaluate the availability of medication history data sources and medication management technologies. We are very appreciative for the helpful contributions of vendors like RememberItNow! to our market research."
One of the areas ripe for improvement is the patient's medication compliance. Often-quoted former U.S. Surgeon General C. Everett Koop succinctly summarizes the challenge, "Drugs don't work in patients who don't take them." Studies show that nearly 50% of the time patients don't take their medications as they have been prescribed.
To improve medication compliance, RememberItNow! sends text messages, push, or email reminders for medications and events to the user's cell phone. Medication reminders can be customized with special instructions: "10:30 am, Lipitor, 1 pill, night stand, with food, as needed."
"We are privileged to be part of this opportunity to demonstrate how our patient-centric eHealth software empowers people to take control of their health by helping them take the right medication, at the right time, in the right dose," said Pamela Swingley, chief executive officer and founder of RememberItNow!
In addition to medication reminders, RememberItNow! offers a personal health record and the ability to create an interactive personal health team. Available online and on smart phones, the service makes eHealth easy.
Swingley noted the time is ideal to address the challenge of medication management. "It's encouraging to see the States seek innovative solutions to the challenge of medication management throughout the entire health care system. Thanks to advances in mobile technology, the widespread use of cell phones, and acceptance of software-as-a-service, we can now address part of the complex challenge of medication management by reminding people to take their medications and easily manage their medical history. The technology is available today to empower people to take control of their health."
ABOUT THE OFFICE OF e-HEALTH INITIATIVES
The Office of e-Health Initiatives is the single coordinating authority for health information exchange in Tennessee and works to upgrade the state's health information technology to provide complete health information and improve the quality of patient care at the point of care. For more information, visit http://news.tnanytime.org/ehealth
About RememberItNow! LLC
RememberItNow! makes eHealth easy. Designed from the patient's point-of-view, it is simple to schedule cell phone medication reminders, maintain a personal health record, and create a private health team. RememberItNow's patient-centric SaaS platform is also available to healthcare providers, employers, and long-term care facilities. Headquartered in Orinda, CA, RememberItNow! is privately held. Learn more at http://www.rememberitnow.com . To view the RememberItNow! eHealth Medication Management Presentation, click here.
Media Contact:
Alex Bettencourt
Phone: 925-254-8936
This press release was distributed through PRWeb by Human Resources Marketer (HR Marketer: http://www.HRmarketer.com) on behalf of the company listed above.
###