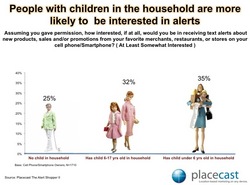 Right now, I'm trying to enjoy my summer but I have the daunting task of back-to-school shopping for both clothes and supplies. I'd like marketers to be able to tell me through my mobile media device what they've got in stock and at what price.
San Francisco (PRWEB) August 12, 2010
The presence of children in their household makes mobile phone owners more likely to be interested in receiving mobile opt-in text alerts from brands, and adults in these households are generally more promotionally active, according to a May online survey conducted by Harris Interactive and commissioned by Placecast. Over 2000 adults were surveyed.
Those mobile phone owners with young children - under 6 years old - were the most receptive, with 35% being at least somewhat interested in receiving opt-in text alerts about new products, sales or promotions from their favorite merchants, restaurants, or stores. 32% of those with children ages 6-17 in the household showed interest, while only 25% of those without children in the household showed interest in such alerts. (chart 1)
When asked a series of seven questions about promotional activity, adults with children under 6yrs old in their household outpace comparative demographics every time. (chart 2)
The most marked difference is found in the "Signed up to receive coupons online, i.e., from Groupon, DealOn" category, in which adults with young children in their household showed double the interest of those with no children: 36% compared to 18%. (chart 3)
Though many in the mobile industry are tuned into the idea that early-adopter males drive the use of consumer electronics, the Placecast survey shows that families with younger children place more importance on their cell phones than those without children. (chart 4) Women, especially between the ages of 35-54, are rapidly embracing the device and using it to simplify their lives. 28% of women from 35-54 showed interest in mobile marketing messages, compared to 22% of men of the same age.
"This report points to great potential for marketing to people with kids via mobile devices. Mobile Moms and Dads may not have the time to open an app and search for information, but they see the value and ease of receiving text alerts. In today's economy, more people are seeking money-saving opportunities that savvy mobile marketers can provide," says Placecast CEO Alistair Goodman.
Kathryn Koegel of Primary Impact Research is a full-time working researcher and mom, and says, "My mobile usage is largely driven by convenience. I want on-the-go information for where to find products. Right now, I'm trying to enjoy my summer but I have the daunting task of back-to-school shopping for both clothes and supplies. I'd like marketers to be able to tell me through my mobile media device what they've got in stock and at what price. Kids get really specific lists of what they need to bring and I want to go to one place and get it all – then get back to the beach."
The survey forms part of a larger body of research work entitled, "The Alert Shopper" (http://blog.placecast.net) which is focused on understanding consumer attitudes towards mobile marketing messages.
For more information about Placecast, visit http://www.placecast.net.
Methodology
This survey was conducted online within the United States by Harris Interactive on behalf of 1020 INC. from May 17-19, 2010 among 2,046 U.S. adults ages 18+ of whom 1,710 own a cell phone and/or a Smartphone. This online survey is not based on a probability sample and therefore no estimate of theoretical sampling error can be calculated. For complete survey methodology, including weighting variables, please contact Rachael Himsel of VSC Consulting on behalf of Placecast PR at Rachael(at)vscconsulting(dot)com
About Harris Interactive
Harris Interactive is one of the world's leading custom market research firms, leveraging research, technology, and business acumen to transform relevant insight into actionable foresight. Known widely for the Harris Poll and for pioneering innovative research methodologies, Harris offers expertise in a wide range of industries including healthcare, technology, public affairs, energy, telecommunications, financial services, insurance, media, retail, restaurant, and consumer package goods. Serving clients in over 215 countries and territories through our North American, European, and Asian offices and a network of independent market research firms, Harris specializes in delivering research solutions that help us – and our clients – stay ahead of what's next. For more information, please visit http://www.harrisinteractive.com.
About Placecast
Placecast is the first location-based platform specifically designed to use digital marketing on mobile to drive consumers into physical environments.
Placecast's ShopAlerts service has transformed the location-based industry, taking home the top prize for innovation given by the National Retail Federation knows as the 2010 RACie award, and demonstrating that mainstream brands like the North Face, Sonic, and American Eagle are embracing location-based mobile marketing. Placecast recently launched MatchAPI, a tool that enables providers and developers to refer to a location in any number of ways and validate that those references resolve to one true location on the planet. The company recently raised $8 million in Series B funding from Quatrex Capital and existing investors ONSET Ventures and Voyager Capital.
Survey results and methodology are available upon request.
# # #