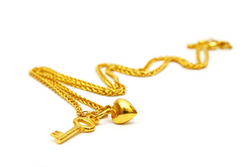 (PRWEB) August 13, 2010
The results of the most recent Postgoldforcash Customer Survey of July 2010 were a very pleasant surprise for both the management of the company and celebrity Anne Diamond, who has recently agreed to promote Postgoldforcash for another year.
According to the survey, the most common reason for selling gold was that customers didn't see any other use for their broken or unfashionable jewellery. About 40% of the customers also mentioned that they needed the money but it was less than the % of customers selling their gold jewellery because it was broken or out of fashion. Postgoldforcash.com's customers were very happy with the speed of payment; over 90% said this element of the service was good or excellent.
Anne Diamond was flattered to hear that almost everyone mentioned the TV and web ads with her on them as one of the reasons to choose Postgoldforcash. "I'm happy to encourage people to sell their gold through Postgoldforcash, because I had a great experience when sending my broken jewellery to them last year. This recent customer survey shows that my experience was no exception."
"If you need the money, now is a great time to sell your gold because the gold price seems to keep rising," said Anne. "The reason why I prefer Postgoldforcash over other gold buyers is that they're reliable and independent research has shown they pay more than double the price of many other companies."
Postgoldforcash.com is based in the Bournemouth / Poole area. The business does exactly what it says on the tin and, in a recent TNS Mystery Shopper Study, was the top-payer of all its TV advertised competitors when offered 25grams of 9ct gold to buy. In fact, postgoldforcash.com pays over double the amount for Gold paid by our largest rivals. Postgoldforcash also came TOP in BBC's One Show Postal Gold Survey. For a summary of this study see the comparison table at http://www.postgoldforcash.com
Its two founder directors, Ashley Faull and Ian Corica, have over 30 years experience in the jewellery trade and very extensive media and start-up experience. They believe that with the current high Gold price, combined with the poor economic climate, there is a great opportunity for postgoldforcash.com to provide a first rate Gold buying service to its customers.
Postgoldforcash.com sends a free Gold Selling Pack to customers who use the Royal Mail Special Delivery insured envelope sent them to return their old, unwanted or broken Gold.
Postgoldforcash.com values the Gold and calls the customer with an offer. With well over 90% of customers accepting the offer made for their gold, and 95% receiving their payments within 2 working days of sending back their free Gold Selling Pack, postgoldforcash.com say that there has never been an easier way to make cash.
With the postgoldforcash.com Directors' previous businesses successes, [they have employed over 1,000 staff between them and won many awards] they are now fully focused on channelling their extensive expertise into making postgoldforcash.com yet another successful business operation.
For the latest news see http://www.postgoldforcash.com or contact Lindsay (Lindsay(at)postgoldforcash(dot)com) on 01202 666249 for any further information.
###