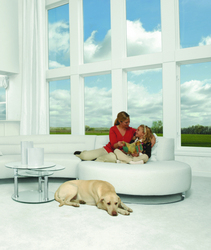 I encourage central vacuums in the hospitals that I design for convenience and to speed up the cleaning process.
Andover, KS (PRWEB) August 16, 2010
When new clients bring their dogs and cats to Countryside Pet Clinic many express surprise that the clinic is quiet and virtually odor free. Dr. Kevin Cederberg, the veterinarian who founded the practice and a pet resort in suburban Wichita, credits much of the clinic's hospitable atmosphere to his decision to install central vacuum systems in both facilities.
"By keeping it clean, you're definitely removing a lot of the regular and perceived odors of a veterinary clinic," Cederberg says. "Quietness is a big thing for us. You can get the vacuuming done with a critical-care patient present or with clients in the waiting room or exam rooms and they're really not aware of a vacuum at all."
Allen Ibsen, a veterinarian from Brookfield, Wis., who designs veterinary clinics across the country, has long included central vacuum systems in his designs.
"It takes a lot of labor to keep the veterinary hospitals clean," says Ibsen. "I encourage central vacuums in the hospitals that I design for convenience and to speed up the cleaning process."
From a business standpoint, the faster the cleaning process between appointments enhances staff efficiency and may allow veterinarians to serve more patients each day.
Cheney Door Co., a BEAM Central Vacuum System dealer, installed the first system for Cederberg in 1996 and recently replaced the unit with the BEAM Serenity QS power unit which quietly delivers 600 air watts of cleaning power – up to five times more powerful than a traditional upright or canister vacuum. A BEAM system also is installed in the neighboring Pet Resort, which provides day-care and boarding services for dogs and cats, including patients from the clinic.
Kenny Bomholt, sales manager at Cheney Door says that pet care industry represents a growing segment of his business. "Having a central vacuum system allows a veterinarian or even a pet grooming business to keep their facilities cleaner and to clean more quickly and that allows them to care for more pets," he says.
Cederberg noted that his system is in constant use when patients are prepped for surgeries and to prevent hair from the surgical site during the procedures.
"Dogs and cats tend to shed more when they're excited or nervous so we see a lot more hair that flies around," Cederberg says.
Pet dander, especially cat dander, is a leading allergy trigger in humans and Cederberg says installing a central vacuum system in the home may be a smart decision for allergic pet owners. In fact, Cederberg recently installed a central vacuum in his own home.
"Anything we can do to reduce exposure to the dander and the hair, that's good."
###