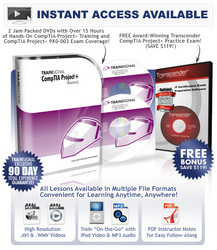 Schaumburg, IL (PRWEB) August 17, 2010
Train Signal, the global leader in professional computer training, is excited to announce the release of their new CompTIA Project+ training course.
Today's enterprise and IT projects have increased in both scope and complexity. Based on the unique skills required to successfully manage these projects, the project management professional career track has emerged as a critical business role. Marketing Director, Iman Jalali, agrees, "The median base salary for Project Management professionals in the US is $100,000 according to the 2009 salary survey conducted by Project Management Institute. Project management is a great field to be in right now and the Project+ is a great way to break in."
The course includes the updated 2009 exam objectives and is led by instructor Bill Kulterman. A web and graphic designer, he holds Project+, Security+, and CIW certifications. "Over 60% of all IT projects fail," Bill says. "Good project management is vital to the success of any IT project; it is however, often misunderstood or even overlooked. Becoming Project+ certified is an effective way to learn the fundamentals of good project management."
Priced at $297, the Project+ course contains over 15 hours of training, available in video, audio and pdf formats. And the free Transcender practice exam will help prepare candidates for PK0-003 certification. All of this is offered with a 90 day guarantee. Course highlights include:

Project Management Tools
Characteristics of a Project
Project Management Topics
Templates and Sample Documents
Complete Exam Coverage
About Train Signal: Founded in 2002, Train Signal provides computer-based "Total Experience" training that gives individuals the tools and confidence to tackle real-world challenges, pass their certification exam and succeed in today's competitive global IT market.
Train Signal offers a wide range of computer training packages covering Microsoft, Cisco, CompTIA, VMware, and Microsoft Office. In addition to its Windows Server 2008, Exchange Server 2010, and SQL Server 2008 courses, Train Signal offers training for over forty-eight different courses including: VMware vSphere, Cisco CCNA, CompTIA Security+, and more.
A privately-held company, Train Signal is based in Schaumburg, IL. For more information about Train Signal, please visit http://www.trainsignal.com.
###