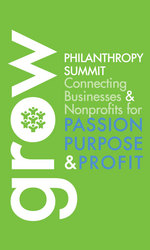 Cause marketing can be a win-win for both corporations and the organizations they support. For corporations, ROI often outperforms other traditional advertising. Campaigns over the years have raised hundreds of millions of dollars for a range of causes.
St. Louis, MO (PRWEB) August 16, 2010
In early 2009, a group of three St. Louisans, passionate about corporate philanthropy, set on a mission to create an educational event that would bring corporations and non-profits together to teach both sides how to create successful partnerships. The St. Louis community, well-known as one of the most generous in the nation, responded in full force. The first annual GROW Philanthropy Summit, focused on building effective Cause Marketing initiatives, was held on Thursday, July 29th at Lindenwood University and hosted a sell-out crowd of over 140 corporate and non-profit leaders from around the area.
Today's economic climate has created challenges for both businesses and charitable organizations. Many non-profits are seeing their donations drop, and corporations are challenged with increasing ROI on their marketing dollars and getting back into growth mode. It is this perfect storm of circumstance which has led to the growing success of one business and marketing practice which benefits charitable organizations, Cause Marketing.
Shanna Schiavon, President of More Marketing and one of the summit organizers, pointed out the business case for cause related marketing campaigns. "Studies show that all other things being equal, consumers would likely switch to a brand that supports a cause," Schiavon said. "In addition, the ROI for cause marketing programs often outperforms other forms of traditional advertising, especially in a down economy. In fact, in one study, a shampoo aligned with a cause saw a 74 percent sales increase over the same brand not associated with a cause."
On the non-profit side, cause marketing programs have raised hundreds of millions of dollars for causes ranging from breast cancer, victims of natural disaster, animal protection and welfare, and educational initiatives, among others. "Cause marketing, done right, can be a win-win for both corporations and the organizations they support," said Schiavon, "and that's what the GROW Philanthropy Summit was designed to teach."
The day long summit featured presentations by Rev. Jerry Paul of the Deaconess Foundation, Jim Bafaro of Boeing, Chris Miller of The Mission Center, Shanna Schiavon of More Marketing, Julie Turner of Lindenwood University, Kate Kromann of the United Way, Victoria Schmitt Babb of Paradigm Shift Studio, Randy Weller of Citi Community Development, Sandy Furuya of Wamhoff Financial Planning & Accounting, Melinda McAliney of the Lutheran Foundation, local philanthropist Grace Harmon, Billy Collier of United Services, and Jennifer Maher of the Cause Academy. KMOX's Debbie Monterrey, KMOV's Virginia Kerr, the St. Louis Post-Dispatch's Shane Anthony, St. Louis Small Business Monthly's Jeremy Nulik, and Streetscape's Tom Hannegan served as panelists during a breakout session on understanding the media. The day concluded with a panel discussion on Best Practices in Philanthropy featuring speakers from corporations and local non-profits.
The organizers of the GROW Philanthropy Summit are already planning for next year's event, which is expected to draw an even larger crowd. Supplemental classes and seminars on specific topics related to cause marketing, non-profit marketing, and charitable partnerships are also in the works.
The GROW Philanthropy Summit was created by Shanna Schiavon of More Marketing, LLC, Dr. Julie Turner of Lindenwood University, and Victoria Schmitt Babb of Paradigm Shift Studio, and provides a forum through which nonprofit organizations, along with philanthropists and business owners, can come together to engage in meaningful conversations about strategic partnerships for the benefit of all involved. For more information, please visit http://www.lindenwood.edu/growphilanthropy.
###