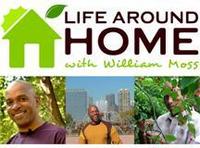 Post your gardening and greening questions on our new YouTube channel and I will answer it in an upcoming Q&A video.
Chicago, IL (PRWEB) August 13, 2010
A new YouTube channel, Life Around Home with William Moss, provides gardening tips and advice from a green living expert. Everyone from a novice gardener or someone who is interested in becoming more environmentally conscious to an experienced horticulturist just looking for advice can watch gardening videos from a world renowned authority in green living and sustainability, gardening, urban agriculture and urban greening.
Moss says, "From seed to bloom, we have all encountered some trials and tribulations along the way. As always, networking is the best way to share information and gather useful hints from fellow gardeners. So post your gardening and greening questions on our new YouTube channel and I will answer it in an upcoming Q&A video. By participating, you will be helping to build a useful knowledge base for others to refer to."
The featured video on the new channel on YouTube is entitled, "Efficient & Effective Watering Techniques for Your Home Garden: Life Around Home with William Moss." Moss explains how to water your garden in this brutal summer heat.
Ways to conserve water while making sure your plants get properly hydrated include watering early in the day as opposed to the bright heat of the day. In addition, water for longer periods of time, but at longer intervals between watering. And let the water really soak down into the soil, but only water every few days.
One of the videos on the new YouTube channel is entitled, "Planting a Butterfly Garden For Summer: Life Around Home With William Moss." Creating a backyard habitat with nectar rich plants is a great way to invite beneficial and beautiful creatures like butterflies and even hummingbirds.
Moss gets children involved in the garden, planting flowers that will attract butterflies like aster, lobelia, cardinal and cone flowers. The children learn how to get in the plants in the ground and even find a giant earth worm!
Another video is entitled, "Ways to Achieve Sustainability in Your Home Garden: Life around Home with William Moss." He explains techniques for sustainable gardening in your own backyard.
Moss defines the term "sustainable" as any practice that doesn't cause long term harm to the environment. He also points out that many sustainable techniques are also more cost effective and help us to save money. Ways to practice sustainability in regards to home gardening include composting our own food scraps as well as using Organic Materials Research Institute (OMRI) organic pesticides and fertilizers.
One of the most viewed videos on the new channel on YouTube is entitled, "Home Garden Question & Answer Vol. 1: Life Around Home with William Moss." In this installment, Moss answers questions about OMRI organic pesticides and fungicides as well as color shifting plants and flowers as a result of genetics and/or lack of proper nutrients in the soil.
About William Moss
William Moss is a spokesperson for the National Gardening Association, the gardening contributor for the CBS Early Show, and an educator for the Chicago Botanic Garden. He connects with audiences and inspires people to make healthier choices that improve their lives, their communities and the environment for future generations
Moss has used television shows to carry those goals to a national audience. While serving as landscape expert, architect, and talent for "Rally Round the House" on the Discovery Channel) and "Town Haul" on TLC, he designed with ecological principles and trumpeted environmentalism to the viewers.
Moss hosts "Dig In" for HGTV, where he demonstrates the best management practices for the homeowner and the habitat. Where appropriate, he installs eco-friendly landscapes with low maintenance plants that offer benefits -- shelter, nectar, berries -- to the broader wildlife community.
Moss's expert knowledge and credibility lends authority to the gardening projects and green programs that he designs.
# # #