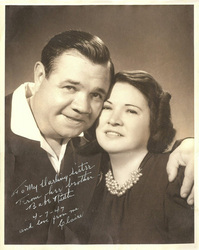 "This Babe Ruth collection of original, never been seen before, signed photographs to his sister Mamie might be the most exciting find in recent times for Babe Ruth collectors". said Ray Schulte - owner of Schulte Auctions.
Woodstock, MD (PRWEB) August 16, 2010
Schulte Auctions is proud to announce that five (5) original photos and one (1) inside book cover of Babe Ruth signed, dated and personalized to his sister, Mary (Mamie) Margaret Ruth-Moberly are part of our August on-line auction. These rare and unique photos have been consigned directly from Mamie Ruth-Moberly's family. The photos have been in possession of the Ruth family since Babe and his wife Claire gave one to Mamie in 1947 and have never been auctioned or sold until now. In addition to the Babe Ruth signed photos, the family also consigned a Lou Gehrig signed and personalized original photo to Mamie. Babe Ruth is perhaps the most iconic American sports figure and one of the most sought after collectible signatures in the history of sports!
Schulte Auctions on-line bidding is underway and ends August 31st at 9:15pm EST with the Babe Ruth signed photos and many other highly desirable, never been seen before, vintage signed items from Ty Cobb, Honus Wagner, Napoleon Lajoie and Jack Dempsey to name a few iconic sports figures featured in this month's auction.
In addition, a game-used Baltimore Colts helmet from former All-Pro Middle linebacker, Mike Curtis, a Cal Ripken Jr. 1995 game-used signed bat from his personal collection and the Steve Carlton game-used signed glove from his historic 27 game winning record back in 1972, a Lenny Moore Baltimore Colts game-used road jersey, circa 1958-61. Many other high profile signed and unsigned collectible items from Don Mattingly, Joe DiMaggio, Rod Gilbert, Yogi Berra, Brooks Robinson, Mickey Mantle, Willie Mays, including current stars such as Joe Mauer and Brian Roberts are featured in this month's auction.
To register for Schulte's on-line auction, visit http://www.SchulteAuctions.com or call Schulte Auctions at (410) 350-6226. Don't miss out bidding on many historic, never been seen, Babe Ruth signed, dated and personalized photos to his sister Mamie Ruth-Moberly.
###