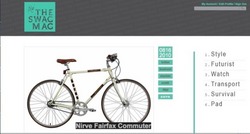 it is great to find cool gear that you might otherwise miss.
San Francisco, CA (PRWEB) August 16, 2010
Composite3 Development LLC announces The Swag Mag, a new Internet resource that provides users with information on the coolest products on the market today. The simplistic and intuitive interface, combined with the colorful product images, allows visitors to easily discover items tied to everything from popular fashion to futuristic gadgets.
As the focus of the site is more general, the featured products on The Swag Mag can be appreciated by a robust group of users. This diversity allows visitors to find interesting items that they normally would overlook.
When asked about this, co-founder of Composite3, Kazu Shichishima, said, "The Swag Mag focuses on a variety of products. If you visit the site with a particular brand or category in mind, odds are you're going to find a lot of other items that spark your interest. Although it can get you a little off-track, it is great to find cool gear that you might otherwise miss."
Luckily, The Swag Mag also categorizes products under six distinct titles to help users find what they are looking for:
Active – Covers sports, travel and outdoors
Futurist – Gadgets and electronics
Media – TV series, movies, books and video games
Pad – Home, kitchen and bath
Style – Clothing and accessories
Transport – Vehicles
According to Kazu, the categories bring necessary organization, allowing users to search the site without getting lost. One thing is for sure, if you plan to visit The Swag Mag, just make sure you are prepared to handle all the cool products listed on the site.
If you are interested in learning more about The Swag Mag visit http://www.theswagmag.com or email contact(at)theswagmag(dot)com.
About Composite3 Development LLC
Composite3 is a leading web development company with a variety of Internet based projects. The company specializes in feature development, web design, internet marketing and creativity management. It is headquartered in San Francisco, California.
###