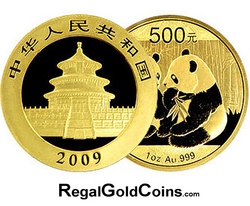 Universal City, CA (Vocus) August 17, 2010
Chinese gold coins have gained in popularity over the last decade with gold investors as China continues to consume gold. Regal Assets has seen a higher trend this year for clients to specifically request Chinese gold panda bullion. With China the second largest buyer of gold worldwide, Regal Assets is offering Chinese gold to its clients as a means to diversify their investment portfolios.
The officials of China have signaled in no uncertain terms that they will encourage the import of gold to their shores and the first step in this direction has been taken by toning down restriction in the transaction of gold. China currently has a 10 year buying plan to increase the gold reserves at their banks through out the country. China has shrugged from releasing any official figure for gold bullion coin imports, however, sources reveal that considerable amount of progress has been made in the direction of import and export.
At present, after India, China is the second largest consumer of gold worldwide and recently the government of China has shown interest in encouraging its middle class to invest more in gold. The price of gold continues to outperform other investments and has emerged as a much reliable companion over the stocks of some of the best and most trusted blue chip companies. The gold rush in China and India means that countries, corporations and individuals will be competing for physical possession.
US gold dealer Regal Assets offers the most recognized gold coins globally traded to include Chinese gold bullion and ships direct to their clients for physical possession. The only way to ensure your gold investment is protected is to have it in hand or in a retirement program in the form of a Gold IRA.
Gold investors looking to buy gold can contact a Regal Assets investment specialist at 1-888-700-9887 or visit online at http://www.RegalGoldCoins.com
###