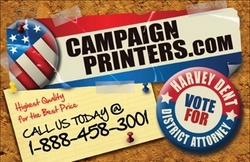 Our goal is to use a network of artists, designers, printers, suppliers, and web specialists, supplemented by the latest technology, to drive costs down, quality up, and voters to the polls.
Los Alamitos, CA (Vocus) August 18, 2010
Sparta Marketing is pleased to announce the launch of CampaignPrinters.com, an innovative new site that brings together Sparta's 25 years of marketing experience, its invaluable connections in the marketing industry, and the latest technologies, all to create the highest-quality campaign marketing materials at the lowest prices.
"Today's winning campaigns need to be smart, cost-effective, and creative in order to stand out from the competition yet stay within budget. That's where CampaignPrinters.com comes in," said Hap LeCompte, a specialist with Sparta Marketing. "Our goal is to use a network of artists, designers, printers, suppliers, and web specialists, supplemented by the latest technology, to drive costs down, quality up, and voters to the polls."
An election campaign is basically the marketing of an individual candidate, and creating name recognition through a campaign is essential to a candidate's success. The marketing aspect of the political campaign must use multiple forms of advertising in order to implant the candidate's name in voters' minds. CampaignPrinters.com uses several different types of printing and technology to convey a candidate's message and create name recognition.
A website can be an immensely effective way for a candidate to create name recognition and to share his or her personal background and positions on major issues, but how do you drive voters to the website? How can you convince voters to educate themselves on a candidate? Many voters cast their ballots without knowing much more about the candidates than their names. This proves that name recognition is a powerful factor in voter behavior, so you must use marketing materials to direct voters to a candidate's website and solidify his or her name recognition.
CampaignPrinters.com brings together all the marketing resources necessary to run a successful campaign at any level, of any size, and on any budget. It is a one-stop shop for campaigns looking for marketing materials for local, state, or national elections. While the most traditional forms of campaign marketing are direct mail, door hangers, yard signs, bumper stickers, banners, campaign buttons, and shirts and hats. CampaignPrinters.com supplements such marketing paraphernalia with integrated websites and one of the newest and most successful political campaign printing innovations being used: variable data printing.
Variable data printing uses technology to change the feel of political campaigns. "Politics is very personal, and CampaignPrinters.com recognizes this," said LeCompte. "Using variable data printing, CampaignPrinters.com can personalize a candidate's message in order to reach every recipient. If we can make a voter feel that the candidate is talking to him or her directly, that candidate will have a much better chance of winning that vote and the election overall. Candidates usually get one shot to win an election, we want to make it a winning shot."
One easy way to attract voters is by using color in marketing materials. Studies show that color improves voter awareness and comprehension, as well as the marketer's ability to sell an idea, by up to 80 percent. Variable data printing is the latest evolution of print marketing, and studies show that it can generate returns far greater than standard, non-customized marketing techniques, anywhere from double the normal return to 10-15 times the normal return.
CampaignPrinters.com understands budgets, time frames, and deadlines in political races. With years of experience in marketing and innovation, and using modern technology and a streamlined production process, CampaignPrinters.com can create budget-conscious yet highly effective marketing materials to help win political campaigns. Visit CampaignPrinters.com or call for more information about getting started, customizing a campaign, or assisting even the most experienced managers in fulfilling and sourcing all their marketing materials for upcoming elections.
###