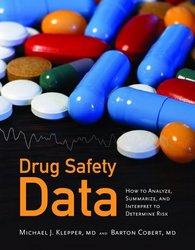 Sudbury, MA (Vocus) August 19, 2010
Jones and Bartlett Learning is pleased to announce the publication of Drug Safety Data: How to Analyze, Summarize and Interpret to Determine Risk by authors Michael J. Klepper, MD and Barton Cobert, MD, FACP, FACG, FFPM.
Drug Safety Data: How to Analyze, Summarize, and Interpret to Determine Risk provides drug safety and pharmacovigilance professionals, pharmaceutical and clinical research scientists, statisticians, programmers, medical writers, technicians and others involved in risk determination, with an accessible, practical framework for the analysis, summary, and interpretation of drug safety data.
The only guide of its kind, Drug Safety Data: How to Analyze, Summarize, and Interpret to Determine Risk is an invaluable reference for pre- and postmarketing risk assessment and includes step-by-step instruction on how to analyze, summarize, and interpret safety data for mandatory governmen¬tal safety reports; pragmatic tips…and mistakes to avoid; and as a special feature some actual examples of pre-and postmarketing mandatory reports. With decades of pharmaceutical research and drug safety expertise, authors Dr. Klepper and Dr. Cobert also discuss how quality planning, safety training, and data standardization result in significant cost, time, and resource savings.
For more information on this title, including a list of key features and the full table of contents, please visit: http://www.jblearning.com/catalog/9780763769123.
Jones & Bartlett Learning (http://www.jblearning.com)
Jones & Bartlett Learning is a world-leading provider of instructional, assessment and learning-performance management solutions for the secondary, post-secondary, and professional markets. We endeavor to develop educational programs and services that improve learning outcomes and enhance student achievement by uniquely combining authoritative content written by respected authors with innovative, proven and engaging technology applications that meet the diverse needs of today's instructors, students, and professionals. Across a broad spectrum of fields ranging from medicine and emergency services to computer information systems, our educational technology applications and instructional assessment and performance-management solutions are revolutionizing how instructors teach and how students and professionals learn. With the most up-to-date, authoritative content available from academia and industry thought-leaders, Jones & Bartlett Learning is leading the way for educators, students and professionals to discover new educational and professional skill-development opportunities— enabling personalized learning, anytime, anywhere.
###