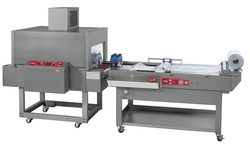 . The MB-22 includes PLEXPACK's SZ-24 Shrink Tunnel, which has a chamber measuring 12
Toronto, CA (Vocus) August 18, 2010
PLEXPACK, manufacturer of EMPLEX Bag Sealing Solutions and DAMARK shrink tunnel machines, wrappers and bundling systems, introduces the MB-22 Manual Shrink Bundling System.
The MB-22 manual bundling system is designed for manufacturing companies looking for the least costly alternative to shrink bundling. The machine is fully equipped, providing versatility in the production process to any type of bundle wrapping, including rewrapping of product to producing samples.
This bundling system machine is used to shrink wrap unsupported products, such as bottles or cans. It also has the ability to wrap supported products in trays or on corrugate sheets. Clear or printed film can be utilized on the system.
Key features of the unit include a cutting mechanism that is adjustable horizontally to determine the appropriate amount of film with a maximum film width of 22". The MB-22 includes PLEXPACK's SZ-24 Shrink Tunnel, which has a chamber measuring 12"H x 24"W x 42"L, also available in 4" height increments. Speeds of the bundling system vary depending on product.
The MB-22 starts at $19K. For more information and to view a product demonstration video, please visit http://www.plexpack.com.
PLEXPACK Corporation, created in 2003, is the leading manufacturer of EMPLEX Bag Sealing Solutions (founded 1972) and DAMARK Shrink Packaging Systems (founded 1980) machinery. Manufacturing from its facility in Toronto, Canada, PLEXPACK builds and ships flexible packaging machinery all over the world. With large customer bases in the food and medical industry, PLEXPACK offers a range of manual, semi-automatic and fully automatic systems to suit flexible packaging needs. PLEXPACK is a proud member of the Packaging Machinery Manufacturers Institute (PMMI).
For more information call 1-800-265-1775 or visit http://www.plexpack.com.
###