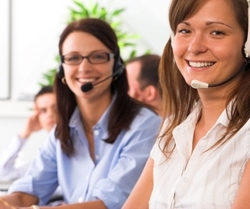 "Interactive transcripts accompanying the talks help me consume media 30% to 40% faster than if I'd just been watching the video, and possibly with better recall." Mike Bergelson, Director of Voice Technology, Cisco
Seattle, WA (PRWEB) August 20, 2010
ScribeRight Transcription Agency, Inc. (http://www.scriberighttranscription.com) has been providing impeccable, Web-based transcription with concierge-like service to the medical community for over 10 years. Today, the company debuts expanded services to meet the transcription needs of business, media and other general types of transcription, CEO Lisa Pike announced today.
"The sheer volume of data that people need to consume daily creates a screaming demand for an organization method that is simple, efficient, and cost effective. ScribeRight's combination of transcription and streamlined document management brings the answer to your desktop," Pike said.
Meeting transcripts offer additional benefits for busy executives. In fact, Mike Bergelson, director of voice technology for Cisco, says in a recent blog that, when reviewing meetings and talks, the interactive transcripts accompanying the talks help him consume media 30% to 40% faster than if he had just been watching the video, and possibly with better recall.
"ScribeRight intends to serve busy professionals like Mike Bergelson, who need to make the most of their precious time with service that is reliable, accurate and delivered with speed at a fair value," Pike said.
She added, "In this day and age of Facebook pokes, Tweets and constant texting, professionals are hard pressed to both be everywhere they need to be and create all of the documents they need to have." Finding quality transcription and attentive customer service isn't easy, though! "It seems no one knows how to type full sentences with proper grammar and punctuation anymore," Pike laments. "Errors in important documents can reflect negatively on the personal brand and reputation of those leading the meetings, and ScribeRight is poised to help their clients always put their best image forward."
Clients have asked ScribeRight for high-quality transcriptions prepared by native English speakers so they can have the benefit of meeting notes, even when they can't attend. Pike says, "A great number of agencies outsource the work offshore, resulting in documents with poor grammar and numerous contextual errors because the typist doesn't understand the language and culture. All of ScribeRight's transcriptionists reside in the USA and are held to extremely high quality standards."
ScribeRight takes audio and video recordings and turns them into accurate Word documents, saving their clients precious time and money. ScribeRight's new website is fueled by robust technology that is also easy to use. Customers can literally "drag and drop" their voice files to the website. When the transcript is ready, they can pay online with ease by credit card and the finished document is whisked to their inbox. A full menu of services is available to meet many different kinds of transcription needs; conference calls, meetings, interviews, seminars, classes, etc., can all be quickly converted to text. Expanded service options are available for contracted affiliates who need them.
About ScribeRight Transcription Agency, Inc.
ScribeRight, a company with a decade of service to the medical community in the Puget Sound region and throughout the western United States, is headquartered in Renton, WA. ScribeRight is a leading provider of audio-to-text services and strives to influence innovative changes in the industry. Visit http://www.scriberighttranscription.com to learn more and engage the new general transcription services that guide clients to more success with greater ease.
Contact: Christine Ayala, 253-277-0505, cayala(at)scriberight(dot)com
###