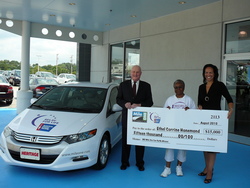 She stayed up all night and walked the track with us
Elizabeth City, NC (Vocus) August 19, 2010
The American Cancer Society and MileOne Automotive announce the winner of their raffle for a 2010 Honda Insight EX Hybrid: Ethel C. Honemond, a resident of the District of Columbia. The vehicle was donated by MileOne to help the Society celebrate cancer survivorship and raise funds for the nonprofit organization's cancer research and patient services. Honemond, 89, met with organizers this month to accept her raffle prize.
Since January, thousands of Maryland residents offered raffle tickets to friends, family and coworkers as a way to raise funds for the Society's signature event, Relay For Life. Across the state, more than 50 Relay For Life events are held each year to honor and remember those affected by cancer, encourage early detection of the disease and support legislative issues related to cancer.
The drawing for the winner took place on June 18 at the Relay For Life event at Western Regional Park in Woodbine, Md. Stationed near the event's main stage, the car's trunk was filled with thousands of raffle tickets. After selecting the winning raffle ticket, representatives from the American Cancer Society and MileOne called Honemond to share the news that she had won the drawing. Honemond and her family were surprised to learn of her raffle win, since they were spending the next evening at the Society's Relay For Life event in Poolesville, Md.
"She stayed up all night and walked the track with us," said Rosemary Jordan, daughter of Honemond. The Relay For Life team from ESIARPE Ministries International included Jordan and her son, Jason O. Jordan-Griffin, as well as two of Honemond's nieces, both cancer survivors.
MileOne has sponsored the automobile raffle for the Society's Relay For Life for the past ten years, offering a variety of cars from Volkswagen, Mercedes, Saturn, and Jeep. The automotive group's sponsorship of the Society's Relay For Life and Making Strides Against Breast Cancer events has raised more than $2 million for cancer research and community programs, including early detection efforts, transportation assistance and lodging.
"The MileOne family is committed to giving back to the community, and we are proud to partner with the American Cancer Society to increase cancer awareness and raise dollars for fighting the disease," said Jerry Fader, president and chief operating officer of MileOne Automotive. "In Baltimore and across Maryland, our employees participate in the Society's Relay For Life events in order to educate others on the importance of early detection and cancer prevention."
About The American Cancer Society
The American Cancer Society combines an unyielding passion with nearly a century of experience to save lives and end suffering from cancer. As a global grassroots force of more than three million volunteers, we fight for every birthday threatened by every cancer in every community. We save lives by helping people stay well by preventing cancer or detecting it early; helping people get well by being there for them during and after a cancer diagnosis; by finding cures through investment in groundbreaking discovery; and by fighting back by rallying lawmakers to pass laws to defeat cancer and by rallying communities worldwide to join the fight. As the nation's largest non-governmental investor in cancer research, contributing more than $3.4 billion, we turn what we know about cancer into what we do. As a result, more than 11 million people in America who have had cancer and countless more who have avoided it will be celebrating birthdays this year. To learn more about us or to get help, call us any time, day or night, at 1-800-227-2345 or visit cancer.org. For cancer news in your community, visit sacancernews.org.
About MileOne
MileOne Automotive operates 59 retail automotive franchises representing 26 different brands and 11 collision centers in Pennsylvania, Maryland, North Carolina and Virginia with a focus on the Baltimore-Washington, Hampton Roads/Virginia Beach, Nags Head/Elizabeth City and Wilkes-Barre/Scranton major metro areas. MileOne.com allows customers to research new, used and fuel-efficient luxury, import and domestic cars and trucks, send information about vehicles to their mobile device, schedule service appointments, buy parts and accessories, play automotive games, and download automotive wallpaper and mobile ring tones. For more information or to find a quality MileOne dealership near you, please visit http://www.mileone.com.
###