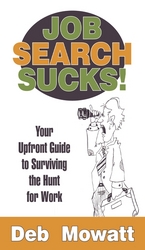 Facing the World When You're Out of Work.
Cambridge, Ontario (Vocus) August 23, 2010
In this lack luster economy, the unemployed are competing fiercely for fewer jobs than ever before. The job hunt can be long and frustrating, full of personal and professional challenges. For nearly two decades, Deb Mowatt has provided job search training and coaching. In her new book, Job Search Sucks!: Your Upfront Guide to Surviving the Hunt for Work (published by iUniverse), she offers a wealth of advice on how to land a job in a unique, easy-to-follow style.
Mowatt recognizes there is no one-size-fits-all solution to finding a job. She uses her years of job coaching experience to provide readers with tailored strategies that will produce results. Job Search Sucks! addresses all issues facing the unemployed, from anxiety about the future to the fear of change and finally, to the job searching process.
Like a good friend, Job Search Sucks! tells it like it is. Mowatt writes in a conversational style to engage her readers in an active discussion about achieving success. Her slight touch of humor brings this how-to guide down to a personal level. She includes stories, examples and simple exercises, allowing readers to be interactive.
Mowatt understands the emotional toll unemployment can take and addresses it in the first chapter, "Facing the World When You're Out of Work." She explains how difficult it can be for readers to maintain their dignity when explaining their situation to others. Job Search Sucks! goes on to help readers manage their feelings toward a former boss, cope with a lack of money and how to move forward in their hunt for employment.
Whether readers are searching for simple direction to create a resume and cover letter, establishing references or are completely overwhelmed by the entire process, Job Search Sucks! is there with answers.
Deb Mowatt lives in Cambridge, Ontario, Canada with her husband Bill and their two youngest sons. She has worked in employment and training services as a counselor, coach and instructor for nearly two decades. She began helping others find work as the result of her unemployment 20 years ago. She has helped hundreds of people find jobs and create work. This is her first published book.
iUniverse is the premier book publisher for emerging, self-published authors. For more information, please visit http://www.iuniverse.com.
###