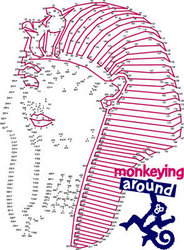 There are puzzle writers who write for 40 years and never reach those numbers. It is most impressive. I hope he calls me when number 1,000,000 has sold. He will be there before you can blink.
Rochester, NY (Vocus) August 20, 2010
Puzzle designer and independent publisher, David Kalvitis, reached a personal and professional goal this summer when his popular Greatest Dot-to-Dot book series surpassed the ½ million mark in sales. It is a goal Kalvitis began working toward with the release of his first book in July 2000; a goal met a decade later following the release of his Greatest Dot-to-Dot Super Challenge book 8.
With the release of The Greatest Dot-to-Dot Book 1 in 2000, Kalvitis found an audience with puzzlers, who had been looking for a fresh, unique slant on traditional dot-to-dots. The demand for more puzzles was immediate. "The books fill a unique niche in the market," stated John, manager of Dan's Crafts & Things in Rochester, NY, "Sales of the books have been steady since the beginning and continue to grow with each new release."
Kalvitis met the growing demand for more puzzles with the release of The Greatest Dot-to-Dot Book 2 in 2001 and has continued to release books annually ever since. With the recent release of The Greatest Dot-to-Dot Super Challenge book 8, there are currently 14 books available on the market.
Kalvitis's business customers, who have grown in number from 23 businesses in 2000 to 962 today, are thrilled with the series' success. Pat Kutz, owner of Liftbridge Books in Brockport, NY stated, "We're not surprised by the terrific success of The Greatest Dot-to-Dot books. They are the greatest! Our customers come back for them again and again."
Customer demand for Kalvitis's complex connect-the-dots books remains high in stores that sell activity books. Renee, owner of Miller Pads and Paper in Boscobel, WI stated, "The Greatest Dot to Dot books are by far our Best Sellers! Can't wait for more titles!" And Stacey, buyer for the educational store Resource Island in Cleona, PA added, "We just love these Dot-to-Dot books! Our customers rave about them and keep coming back for more!"
Within a few years of their debut, The Greatest Dot-to-Dot series branched out into international markets. Laura Beatrice Ricks, buyer for Den Gamle Skole catalog, stated, "We have sold Monkeying Around's Dot-to-Dot books since 2005 and they have been a great success in Denmark. We will certainly be continuing with them in the years to come and we always look forward to a new book being published." With two more books to be released in February 2011, Kalvitis's customers in Denmark and around the world will not have to wait long for new Greatest Dot-to-Dot challenges.
Alejandra Garza, owner of Tumbili, not only carries Kalvitis's Dot-to-Dot books, but has been a long time fan of the puzzles. "Mexico is proud of being part of using these interesting and unique books," Garza explained, "Please continue challenging us...and let´s go for the million!"
With ½ a million books sold, loyal customers who span the globe, and more books on the way, Kalvitis and Monkeying Around Publishing are working toward meeting their new objective, 1 million sold. It is a challenge Kalvitis's colleagues have no doubt he will meet. Puzzle designer, Terry Stickels, praised Kalvitis's success, "There are puzzle writers who write for 40 years and never reach those numbers. It is most impressive. I hope he calls me when number 1,000,000 has sold. He will be there before you can blink."
###