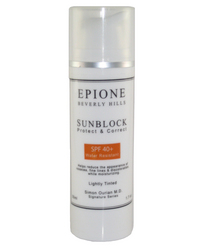 Sun damage is one of the leading causes of premature skin aging among both men and women.
Los Angeles, Calif. (PRWEB) August 23, 2010
Epione Beverly Hills announced today the availability of Epione Sunblock Protect and Correct, the latest addition to its Signature Series product line. Made with anti-aging multivitamins and correcting enzymes, the revolutionary formula protects skin from harmful rays, while simultaneously diminishing the appearance of the signs of aging and years of sun damage.
"Each year, a significant number of clients come to our center for chemical peels, laser resurfacing, microdermabrasion, dermal fillers, mole removal and other treatments to correct issues that could have been prevented by implementing a good skincare regimen," said Dr. Simon Ourian, medical director, Epione Beverly Hills. "It's so important that you don't wait until you see signs of aging and skin damage to become proactive about skincare. Our new sunblock, as well as many of our other products, are designed to promote a higher level of consciousness of the importance of taking care of your skin at all stages of your life."
Sun damage is one of the leading causes of premature skin aging among both men and women. Over time, prolonged exposure to harmful sun rays can lead to changes in skin texture, wrinkling, skin discoloration, sun spots, moles, lesions, and in some cases, skin cancer. However, when appropriate precautions are taken, such as the use of an effective sunblock, men and women can protect themselves from these and other skin issues.
Epione Sunblock Protect and Correct's (1.7 oz, $40) unique formula is based on years of research and cosmetic dermatology experience. Incredibly effective, it offers a sun protection factor of more than 40 (SPF 40+), enhances skin tone, visibly diminishes the appearance of age spots, reduces redness and reveals clearer, more radiant skin. When applied consistently, users may notice that the more the product is used, the less they will require makeup.
"It's important to stress that while we want our clients to look great, most importantly we want to help them maintain the health of their skin," said Dr. Ourian. "Our new sunblock not only helps men and women reverse the appearance of sun damage, but it also effectively shields them from intense sun rays. We want to ensure that our clients are not amongst the nearly four million cases of skin cancer diagnosed each year."
To learn more about Epione Beverly Hills, Sunblock Protect and Correct and other Signature Series products, visit http://www.epioneskincare.com.
About Epione Medical Corporation
Epione, located in the heart of Beverly Hills, is one of the most comprehensive, state-of-the-art laser and aesthetic medicine centers of its kind in the world. Epione is designed to offer clients comfort, convenience and privacy. The practice specializes in the most current technology available for skin, hair, and body contouring, and its staff is dedicated to providing our clients with the highest level of personal attention and care. For more information, call Epione at (888) 951-3377 or visit http://www.epione.com.
###