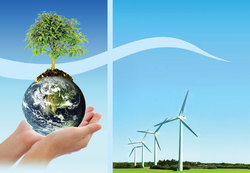 . "We want to get people to think about water and energy issues. Collection, distribution, and treatment of water consume almost 20 percent of all electricity produced in California."
San Diego, CA (PRWEB) August 22, 2010
When Jerry Yudelson wrote his recently released book "Dry Run, Preventing the Next Urban Water Crisis," he was focused upon areas such as San Diego.
Yudelson, who has keynoted more than 50 green building, business, industrial and development events in the past three years, will be the keynote speaker when SDSU's College of Extended Studies hosts its third annual green event "Blue is the New Green: Water in the Built Environment," Friday, Aug. 27 from 8-10:30 am in the SDSU Extended Studies Center.
"We will particularly focus around my new book and how the message is relevant for San Diego," Yudelson said by telephone from his Tucson, Ariz. office, where he leads the consulting team at Yudelson Associates.
"Obviously, the water crisis is a big issue in San Diego," Yudelson added. "We want to get people to think about water and energy issues. Collection, distribution, and treatment of water consume almost 20 percent of all electricity produced in California."
Yudelson will bring to the SDSU green event an impressive background that includes writing 12 books, being a former national board member of the U.S. Green Building Council (USGBC), and a current registered professional engineer. He is an expert in the Leadership in Energy and Environmental Design (LEED) green building rating system and is among the leading green building consultants in the country, specializing in helping project teams in the conceptual design and schematic design phases, and assisting with goal setting and facilitating eco-friendly building.
He also has more than 25 years of technical and business experience with renewable energy systems, green building design and environmental planning; leading more than 250 business, technical, and marketing consulting assignments.
Noting that "our water resources have not increased since Adam and Eve," Yudelson believes that the great conflicts of the 21st century will be over water; not oil. He further states that saving water will save energy and reduce global warming pollution.
"Water conservation is the cheapest way to save energy," he said.
"We are privileged to have such an outstanding keynote speaker as Jerry Yudelson for our green event because of the impressive background he brings to the table," said Joe Shapiro, dean of SDSU's College of Extended Studies. "Jerry will reach out to our audience and provide them with information and answers to many questions that people have concerning the burgeoning green industry. We are very honored and excited to have him as a keynote speaker at SDSU."
SDSU's College of Extended Studies currently offers four programs in the green energy field, including online professional certificate courses in Green Building Construction, Green Energy Management, and Residential and Commercial Sustainable Practices; and the new Green Home Performance BPI Contractor program that offers Building Performance Institute (BPI) certification.
"Green is the new normal," Yudelson said. "It is here to stay."
The fee to attend the "Blue is the New Green: Water in the Built Environment," event is $30 to the public and $20 to students and USGBC members. Breakfast will be served and parking is complimentary. Yudelson's new book will be premiered and handed out complimentary at the event.
SDSU's College of Extended Studies thanks its sponsors for the event: Allied Waste Services, Barona Resort & Casino, California Center for Sustainable Energy, and U.S. Green Building Council – San Diego Chapter.
For information, visit http://www.neverstoplearning.net/greenevent or call (619) 594-3946.
SDSU's College of Extended Studies reaches out to the greater San Diego community, the nation, and the world with a wide variety of lifelong learning classes, seminars, and certificate programs. Career advancement courses are offered in many areas of management, leadership, and quality improvement while self-enrichment courses range from astronomy to web design. Additionally, the College offers more than 50 certificate programs, online courses, and many other learning opportunities. For more information or to register, call (619) 265-SDSU (7378) or visit http://www.neverstoplearning.net.
# # #