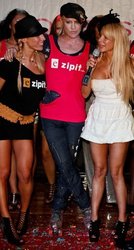 "eZipIt™ is helping users save money and make money on things they already do every day. Why wouldn't they want to take advantage of that?"
Ft. Lauderdale, FL (PRWEB) August 23, 2010
For the growing ranks of people who buy from private online shopping clubs, the secret is out. The popularity of these sites is growing exponentially every day, and shows no signs of slowing in the coming months.
Spurred by the recession and consumers' need to cut spending and find better deals, private shopping sites such as Gilt Groupe, Rue La La, and Ideeli saw a combined $300 million in revenue in 2009. But, while each of those sites helps their users save money, only one actually helps its users make money, too. That site is eZipIt™.
Set for launch in September, eZipIt™ is an exclusive, invite-only social shopping club where members can shop, save and earn cash. Once a part of eZipIt™, they have access to national and local deals on travel, entertainment, fashion, electronics, jewelry, fitness, beauty, home goods, and more. Many of these deals are exclusive to eZipit™ – and carry a low-price guarantee.
"For the small subscription fee of $9.99 a month, members can access thousands of dollars in savings," says Benzion Aboud, founder of eZipIt™. Aboud is no stranger to the online shopping industry as he's also the brains behind Saveology™, a home services comparison site that's expected to surpass $100 million in sales this year. He adds, "With eZipIt, there's no more clipping coupons, or searching multiple stores or websites for the deepest discount. It's all in one place."
According to the Harvard Business Review, one of the key economic trends of 2010 is connected consumerism – and eZipIt™ is pioneering the craze. Each member enjoys an online community of family, friends and colleagues linked together through the site, sharing information on deals, discounts, sales and purchases.
"People are using savings clubs online because it's a natural tendency to want to save," adds Jeff Zbar, a journalist and marketing expert. "They're using them online because people are becoming more accustomed to shopping online and with a lot of these clubs, they're getting references and referrals from friends."
When a member joins eZipIt™, they begin to accrue cash back through the eZipIt™ Three Degree Social Network. Using the eZipit™ software, they're able to invite friends throughout their social network using: e-mail, Facebook, Twitter, and Linkedin. This is the first degree. Members of that group who accept can pass the invite onto their social network, or the second degree, who in turn invite their friends, or the third degree. Members earn a $15 payout for each person in their network who joins at the first, second and third degrees. Once a member cashes out, a check is cut and mailed.
"I've spent millions over the years, advertising through traditional media," points out Aboud. "With eZipIt™, we are basically monetizing the most popular medium of all – word of mouth. Why not give the money back to the people who use the site? It's a no brainer."
eZipIt™ is allowing pre-registration for their founding members before their expected launch in September. They recently hosted a pre-launch party in New York City as part of Affiliate Summit East. Hundreds of people were on hand for the event, which included a fashion show from famed designer Richie Rich at the grand opening of Epoca Restaurant. eZipIt™ will continue to welcome member registration until the site goes live, at which time membership will be by invite only.
We are witnessing a new era of opt-in social shopping as the next stop in the evolution of ecommerce and social media. Consumers are enthusiastic about having the tools at their fingertips to tell friends, family and followers about their favorite products. eZipIt™ lets them do this.
Adds Aboud, "eZipIt™ is helping users save money and make money on things they already do every day. Why wouldn't they want to take advantage of that?"
For more information on eZipIt™, head to http://www.eZipIt.com.
###