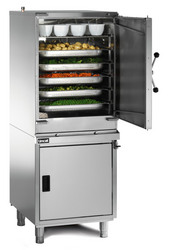 (PRWeb UK) August 25, 2010
Lincat, the leading British manufacturer of commercial catering equipment for cooking, holding and display, has added two compact 1/1 GN atmospheric steamers to its heavy duty Opus 700 range of prime cooking equipment.
These new models, the gas powered OG7504 and the electric OE7505, are ideal for kitchens which want to produce large volumes of healthy steamed food, but have limited space. Their introduction follows the successful launch last year two larger 2/1 GN format Opus700 atmospheric steamers.
All four of Lincat's atmospheric steamers are robustly built and feature internal steam generation. This ensures that the ovens remain fully saturated with steam to guarantee high quality food production, and energy efficiency is enhanced by the positive two-point door latch mechanism and effective door seal. All components and materials are WRAS approved to ensure quality and hygiene.
The atmospheric steamers also feature a mechanical self-fill water system, which means gas models have no electrical requirement.
"Easy to use and versatile, atmospheric steamers are capable of delivering substantial nutritional and cost saving benefits. Vegetables, rice, ham, fish and puddings all retain their nutritional value and colour when steamed, and reduced shrinkage results in cost savings on raw products", said Nick McDonald, Marketing Director of Lincat Ltd.
He continued….
"So It's easy to see why they remain popular in large kitchens and especially so in education and healthcare settings. Our new, smaller steamers will fit more comfortably into a cookline or under an extraction canopy, and are therefore suitable for kitchens where space is at a premium."
Opus 700 is Lincat's range of 700mm heavy duty deep prime cooking equipment. Following extensive and rigorous product trials these are now being specified and used by many national accounts including: the Spirit Group, Greene King and Sainsbury's throughout the country. Powerful and reliable, Opus 700 comprises over 50 pieces including: gas and electric fryers, oven ranges, boiling tops, salamander grills, griddles and atmospheric steamers. It also includes gas chargrills and electric pasta boilers, a chip scuttle and bain marie.
Lincat Ltd manufactures one of the world's most comprehensive ranges of catering equipment. Products are sold throughout the UK and in over 50 countries overseas through a network of international distributors. Lincat Ltd, together with its sister companies IMC Ltd and Britannia Kitchen Ventilation, form the Lincat Group plc.
###