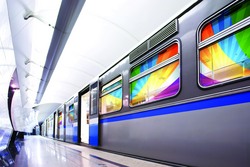 (PRWeb UK) August 25, 2010
PET window film has a range of benefits and applications, which can all be enhanced by the inclusion of the unique DigiGlass printing process. Up until now no printed window film met UK safety legislation requirements for public places. The Class "O" fire rating ensures that the safety, security and branding potential of printed window film is now available for use in applications where fire safety is of particular importance.
DigiGlass sought the rating following an enquiry into the potential installation of printed window film on passenger trains. In order to utilise the marketing and branding opportunities DigiGlass offers the client required certification that the product complied with relevant safety legislation.
Dave Macdonald, Managing Director of DigiGlass commented, "The Class "O" Fire Rating was an important achievement for DigiGlass and came about as a direct result of client demand. "
He added, "The rating has broadened the appeal of printed window film far beyond its traditional market and will ensure that we will see some really innovative applications of the product in the near future. It is especially pleasing that DigiGlass is at the forefront of the developments in what is an exciting and growing industry."
One of the key benefits of 100micron PET film is its shatterproof protection, which complies with The approved code of practice for Reg. 14. The fire rating compliments the existing benefits to provide a robust and cost effective solution for businesses seeking to bolster the security and safety of glazed areas. Of course this decision is often not only a business wish but also a legal requirement.
DigiGlass printed window film is already finding application with Architects, Interior Designers and Corporate Clients who are exploiting the opportunity to produce bespoke graphics for internal and external glass areas. Often through marketing or design agencies, corporate clients are using DigiGlass to enhance the appearance of glass areas and maximise the opportunities for branding. The unique DigiGlass print process incorporates white into the design process to provide seamless high impact graphics that give the appearance of being printed direct to the glass.
Examples of recent installations can be found by visiting the DigiGlass website at http://www.digiglass.com.
###