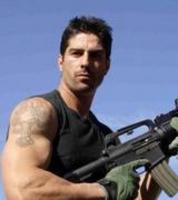 His city. His rules. No prisoners.
Gastonia, NC (PRWEB) August 26, 2010
Evan Karagias, actor, pro-wrestler, and celebrity tax advisor, announces that he will make a personal appearance on Tuesday, September 14th, 2010, for the 7:15 PM East Coast Movie Premiere Screening at EpiCentre Theaters, Charlotte, NC, for the crime action thriller "SINNERS & SAINTS" (2010).
The feature film is directed by William Kaufman, known for his surprise DVD hit, "The Prodigy" (2005).  It is co-produced by Hollywood's Noir Blanc Films, under Producers Ron Balicki and Mark Andrew Clark, and by Charlotte's own Carolina Film Works, under Executive Producer and actor Leon Dunn, who makes his first film appearance in this movie.
In "Sinners & Saints," Evan Karagias appears in the supporting role of "Lynch," a private contractor and former military operative assigned to the recovery of a stolen videotape, which is the only evidence to an atrocity in Iraq covered up by US Army officers and shady defense contractors, a tape now lost on the 9th Ward streets of post-Katrina New Orleans, Louisiana.
The videotape is also hotly pursued by the troubled New Orleans Police Detective Sean Riley, played by Johnny Strong, known for his role in "Fast and the Furious" (2001), and by his new, by-the-book, partner, Detective Will Ganz, played by Kevin Phillips, who was last seen in "Notorious" (2009).
Playing Detective Riley's love interest, Stacy, is played by the intense actress Jolene Blalock, best known for playing T'Pol, the Vulcan Science Officer, on the Paramount TV series "Star Trek: Enterprise" (2005).
Also featured in the cast are Sean Patrick Flanery from Lifetime Network's "Army Wives," the Oscar-nominated Tom Berenger, brothers Costas and Louis Mandylor, Kim Coates, Jürgen Prochnow, as the evil "Mr. Rhykin," and Evan's personal friends, actor/pro-wrestlers Bas Rutten and Holt Boggs. Appearing in first-time acting roles are musicians and composers Method Man and Jake La Botz.
With stunts and fights directed by producer and martial artist Ron Balicki, the movie has attention grabbing action scenes. Evan Karagias assisted Ron by providing stunt choreography for several fights and by performing his own dangerous live stunts -- without a stunt double.  The producers noted Evan Karagias's extraordinary efforts towards the making of the movie with a "Special Thanks" acknowledgment in the closing credits.
"Sinners & Saints" has a run-time of 150 minutes and is Rated-R by the MPAA for content including Adult Themes, Adult Language, and Strong Violence: Children under the age of 17 must be accompanied by a parent or an adult guardian to be admitted to any screening of this movie.
Advance tickets are now on sale for this East Coast Premiere VIP Screening at the EpiCentre Theaters box office in Charlotte, NC.
*     *     *
For Screening Information and Ticket Availability, contact:
EpiCentre Theatres
210 E. Trade St.,
Charlotte, NC 28202
Phone: (704) 688-2400
Fax: (704) 971-2402
Official Web Site: http://www.epicentretheaters.com
* * *
About Evan Karagias:
With over 15-years in the sports and entertainment business, Evan Karagias was born and raised in Gastonia, North Carolina. 
Evan graduated from Gastonia's Hunter Huss High School and won a full collegiate wrestling scholarship to North Carolina State University, Raleigh, NC. There, Evan studied Political Science and Theater Arts, taking NCSU's Wolfpack Wrestling Team to the NCAA Finals. 
Graduating, Evan moved to New York City to pursue an acting and modeling career. In 1995, he met his wife, Jennifer, on the set of "All My Children." He also became the spokesmodel for the 1996 Calvin Klein and US Olympic Committee advertising campaigns. Later that year, Evan was recruited to join the World Championship Wrestling (WCW) association, and entered training at the WCW's "Power Plant" facility in Atlanta, Georgia, where he soon reached stunt instructor status. 
In 1997 he began his appearances on WCW's weekly wrestling shows as "The Outrageous Karagias."  In November of 1999 Evan Karagias won the WCW Cruiserweight Title, and in December of that same year, he recorded his first CD: With Shane Helms (aka "The Hurricane") and Shannon Moore, the first pro-wrestling "boy band" was born, "Three Count." The trio opened with a hit single, "Can't Get You Out of My Heart" which was also released as a music video. 
When the WCW folded in early 2001, and was purchased by the World Wrestling Federation (which changed its name to World Wrestling Entertainment in 2002), Evan's contract was among the 24 immediately purchased by the WWF. After a near fatal wrestling accident, he was released in December of that year without being called up to appear in the WWE schedule. 
Evan then appeared briefly with Xtreme Pro Wrestling (XPW). In March of 2002 he was called up by the American Wrestling Association to wrestle then champion Eric Priest, "The Underwear Model", and won the AWA World Heavyweight Championship Belt.  Evan held that title through 2004.
Despite his physical prowess, Evan Karagias remains an actor's actor first, and decided to not become a WWE star, because he understands the value of a good action script.
Today, Evan and Jennifer Karagias are raising a family of four children in North Carolina, where Evan is preparing to appear next in director Kevin Porter's big action feature film "HELL COMES TO MONTANA."
* * *
For media interview requests and more information about Evan Karagias, contact:
Evan Karagias, President & CEO
Multiple Enterprises Inc.
c/o Rapid Cash Refunds
112 North Main Avenue
Mt. Holly, NC 28120-1792
Phone: (704) 822-1298
Official Fan Web Site: http://www.evankaragias.com
IMDb Profile:  http://www.imdb.com/name/nm0438756/
Wikipedia Profile:  http://en.wikipedia.org/wiki/Evan_Karagias
* * *
For more information about Carolina Film Works, contact:
Carolina Film Works
P.O.Box 560823
Charlotte, NC 28256
USA
Phone: +1.864.425.6201 / +1.704.796.8044
Fax: +1.704.597.9598
Official Web Site:  http://www.carolinafilmworks.com
Official Media E-mail:  carolinafilmworks(at)yahoo(dot)com
* * *
For more information about Noir Blanc Films, contact:
Noir Blanc Films
13636 Ventura Blvd, Suite #272
Sherman Oaks, CA 91423
USA
Official Movie Web Site:  http://www.sinnersandsaintsthemovie.com
Official Movie E-Mail: production(at)sinnersandsaintsthemovie(dot)com
* * *
For corrections and clarifications, this Press Release was prepared by:
Bob Lee, 
Publicist for Evan Karagias,
Quackers Web,
1305 N H St., Suite A-294
Lompoc, CA 93436
Phone: +1.805.616.2191
FAX:  +1.757.257.3385
E-mail: qkrsweb(at)gmail(dot)com
# # #