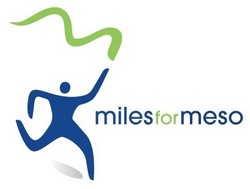 As Miles for Meso grows, so does the support for this orphan disease, mesothelioma.
East Alton, IL (PRWEB) August 26, 2010
The Simmons law firm is sponsoring the second annual Miles for Meso 5k fundraiser on Saturday, Sept. 25 in Alton, Ill., to raise mesothelioma cancer awareness. Mesothelioma is an aggressive disease caused by exposure to asbestos.
Last year, over 500 people supported the fight against this rare cancer by participating in the first ever Miles for Meso race in historic, downtown Alton. Race organizers expect as many people to once again fill the streets for this year's event.
"Since we held the first Miles for Meso in Alton last year, its popularity has exploded," said John Simmons, chairman and CEO of the firm.
During Miles for Meso's first year, Miles for Meso races were held in Alton, St. Louis and Florida. Now, the number of Miles for Meso races has nearly doubled with additional Miles for Meso races scheduled in Rushville, Ind. and Fairfax Station, Va. In addition, the Miles for Meso team has received requests from individuals affected by mesothelioma in Texas, Massachusetts and California who are also interested in hosting their own Miles for Meso races.
"We're making progress. As Miles for Meso grows, so does the support for this orphan disease, mesothelioma," Simmons said. "But much more work needs to be done in order to raise awareness and advance treatment options."
The races in Alton, Ill., Rushville, Ind., and Fairfax Station, Va. will take place the same weekend to celebrate Mesothelioma Awareness Day. Last year, Illinois was one of eight states including Missouri, Kentucky, Pennsylvania, New York, Connecticut, Colorado and Washington, to make a proclamation or pass a resolution making Sept. 26 Mesothelioma Awareness Day in the state.
All the proceeds from the Miles for Meso races will help medical researchers find a cure for mesothelioma and other asbestos-related illnesses, Simmons said.
Last year, the Alton Miles for Meso race raised nearly $50,000 for mesothelioma research. This year, one hundred percent of the proceeds from all three Miles for Meso races will benefit the Mesothelioma Applied Research Foundation, a non-profit organization that has contributed more than $6.4 million to research for improving treatment options and finding a cure for mesothelioma.
St. Louis native and mesothelioma survivor Julie Gundlach will attend the Alton Miles for Meso to share her inspirational story. As recently documented in a national investigative story about mesothelioma and asbestos-related diseases, she was exposed to asbestos as a child when her father brought the deadly dust home on his work clothes. Years later, she was diagnosed with mesothelioma.
"I think people are most often surprised to learn that asbestos is not fully banned in the United States," Gundlach said. "Awareness and events like this are vital to advancing a national conversation that leads to financial support of research at the federal level."
Registration for Miles for Meso in Alton begins at 7:30 a.m. and runs until 8:45 a.m. at the new Simmons law firm building next to Marquette High School.
It costs $15 to register for Miles for Meso before Sept. 16, $20 if postmarked after Sep. 16, and $25 if you register the day of the race.
The Miles for Meso race begins at 9 a.m. and will be followed by an awards ceremony at 10:30 a.m. Cash prizes of $500, $250, and $100 will be awarded respectively to the top finishers in the men and women's divisions.
The Alton Miles for Meso race is coming to life through the support of the following sponsors: Acropolis Technology Group, Alton Steel, Inc., First Clover Leaf Bank, Hays Companies of St. Louis, Holland Construction Services, Hurford Architects, Inc., Pohlman Reporting, Saint Anthony's Health Center, Slayden Glass, Inc., Sokolove Law LLC, STL Communications, Inc., Stone Carlie and The Tedrick Group."
For more information about Miles for Meso races or to register visit http://www.milesformeso.org.
About the Simmons firm:
The Simmons firm is one of the country's leading asbestos and mesothelioma law firms. With offices in Illinois, Missouri, Georgia and California, the Simmons firm's mesothelioma lawyers have represented over 2,000 patients and families affected by mesothelioma in nearly every state. The Simmons firm has pledged over $15 million to cancer research and proudly partners with top mesothelioma medical experts throughout the country in order to find a cure. For more information about the Simmons firm, visit http://www.simmonsfirm.com.
###