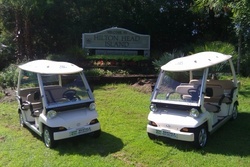 "We are delighted to begin this program in the popular Forest Beach area of Hilton Head," says partner, Bob Hawkins of The Vacation Company, "This is the ideal opportunity to contribute to environmental goals of lowering traffic noise and congestion."
Hilton Head Island, SC (PRWEB) August 27, 2010
In an effort to help reduce traffic problems in the Forest Beach area of Hilton Head as well as their own carbon footprint, The Vacation Company, a Hilton Head rentals agency, proudly announces a joint effort with Lightning Bugz Low Speed Vehicles (LSV's) to enhance their guests' island vacation experience.
Lightning Bugz LSV's look like luxury golf carts, seat six adults comfortably, and are equipped with steel baskets secured on the back for carrying shopping, sports gear, luggage, picnic basket, beach umbrella, or anything else you could possibly need to haul with you while on vacation. The vehicles are electric, street legal, give off zero emissions, and noise, and are simply fun to ride in. In addition, they are easily maneuverable on the slim beach roads that tend to get further narrowed down when people parallel park their SUV's, minivans, and pick-up trucks as the day progresses and the public lot fills up. 
And if the preceding list of pros doesn't sell you on the advantages of LSV's, how about being able to recharge by plugging into a 110V outlet just like a golf cart? The rental fee includes a fifty-foot extension cord with every car so you can juice up wherever you happen to find yourself low on battery power.   
"Additionally," continues Mark Thorn, vice president of operations for Lightning Bugz, "you can't beat the convenience factor. These vehicles are safe and easy to use for anyone over the age of twenty-one."
Of course, one hopes the affiliation between Hilton Head Vacation Rentals and Lightning Bugz evolves into a bright, clean-air future, that will enhance everyone's Hilton Head Island experience.
###