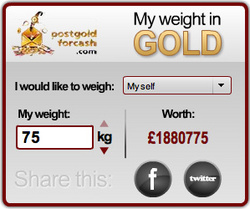 Bournemouth (PRWeb UK) August 27, 2010
Do people keep telling you you're worth your weight in gold? And did you ever wonder what your market value would be if you really were made of pure gold?
The British website Postgoldforcash has launched a fun new widget today that will answer this question instantly. You can also compare your value to that of a wide range of celebrities and share your results with your friends on Facebook, Twitter and other social networks.
If you want to know whether you're worth more than Madonna, Beyonce, Chris Moyles and many others, find out your value in gold. You might even be able to brag on Facebook that you beat Arnold Swarzenegger! Bloggers can also download the widget from this site and jazz up their own websites with it.
Ashley Faull, founding director of Postgoldforcash, explained that the purpose of this widget is to make people aware of the soaring gold price. "Our recent customer survey showed that a lot of people need some extra cash these days. Many people don't realise that selling gold jewellery, medals, coins and dental gold can be a great solution, because they underestimate the value of their broken or unfashionable items. The widget is a playful way to make people aware that might be sitting on a gold mine."
Notes to Editors: -
Postgoldforcash.com is based in the Bournemouth / Poole area. The business does exactly what it says on the tin and, in a recent TNS Mystery Shopper Study, was the top-payer of all its TV advertised competitors when offered 25grams of 9ct gold to buy. In fact, postgoldforcash.com pays OVER DOUBLE the amount for Gold paid by our largest rivals. Postgoldforcash also came TOP in BBC's One Show Postal Gold Survey. For a summary of this study see the comparison table at http://www.postgoldforcash.com
Its two founder directors, Ashley Faull and Ian Corica, have over 30 years experience in the jewellery trade and very extensive media and start-up experience. They believe that with the current high Gold price, combined with the poor economic climate, there is a great opportunity for postgoldforcash.com to provide a first rate Gold buying service to its customers.
Postgoldforcash.com sends a FREE Gold Selling Pack to customers who use the Royal Mail Special Delivery insured envelope sent them to return their old, unwanted or broken Gold.
Postgoldforcash.com values the Gold and calls the customer with an offer. With well over 90% of customers accepting the offer made for their gold, and 95% receiving their payments within 2 working days of sending back their FREE Gold Selling Pack, postgoldforcash.com say that there has never been an easier way to make cash.
With the postgoldforcash.com Directors' previous businesses successes, (they have employed over 1,000 staff between them and won many awards) they are now fully focused on channelling their extensive expertise into making postgoldforcash.com yet another successful business operation.
For the latest news see http://www.postgoldforcash.com or contact Lindsay on 01202 666249 for any further information.
###