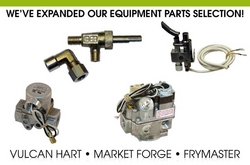 We can help a restaurant in every stage of their growth cycle, from 'opening soon' to 'time to stock up' to 'help, my fryer is broken!'
Boulder, CO (PRWEB) September 13, 2010
Tundra Specialties has added thousands of restaurant equipment parts from a variety of manufacturers to their already comprehensive catalog, including Vulcan parts, Frymaster parts, Market Forge parts, and many more. The additional inventory means Tundra's customers have fast, reliable access to an ever-growing list of replacement parts.
The food service business is extremely time-sensitive – customers want their food fast and prepared just right. That means restaurants depend on cooking equipment to keep customers happy. When that equipment breaks down, it can spell serious trouble.
Unfortunately for restaurants, navigating the complicated world of restaurant equipment parts can be tricky. Diagnosing the problem, identifying the right part, and handling proper installation all take a high level of expertise that doesn't always fit into a busy restaurateur's schedule.
That's where Tundra Specialties comes in. Tundra is an industry-leading national distributor of restaurant supplies, equipment, and parts with 17 years of experience in the industry. When a restaurant calls with broken-down equipment, Tundra's staff use a problem-solving approach to quickly identify the part needed. In stock parts ship the same day they are ordered, and special ordered parts are shipped as quickly as possible.
"Helping our customers win the battle against the wear and tear of time is our specialty," says Lenny Douglas, Tundra's customer service and sales manager. "We focus on having the knowledge at hand to help restaurants find the problem they're having with equipment. Then we back that up with a huge inventory of parts that are ready to go. It's rewarding to come in to work every day and help restaurants solve problems."
That huge inventory of parts has grown significantly this summer. Tundra spent three months working with well-known manufacturers across the food service industry to add 3,000 parts for a variety of restaurant equipment. These parts will be available through Tundra's call center and online at http://www.etundra.com.
Tundra's customers are used to expansion. The Boulder-based company has added many services to its repertoire over the years, including an extensive inventory of restaurant equipment, restaurant supplies, and custom opening packages for new restaurants. This complete set of services allows Tundra to partner with any sized food service business, and that's how the company views its relationship with customers: a partnership.
Tundra is proud of their ability to solve a whole range of problems for restaurants. "We've really expanded our services over the years," says Douglas. "Now we can help a restaurant in every stage of their growth cycle, from 'opening soon' to 'time to stock up' to 'help, my fryer is broken!'"
About Tundra Specialties: Based in Boulder, CO., Tundra is an industry-leading distributor of thousands of food service products, including restaurant equipment, restaurant replenishment and supplies, and equipment parts. Tundra also provides complete opening packages for new restaurants. Visit their website at http://www.etundra.com
###