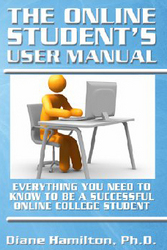 "As a former online learner myself and online professor for more than a decade, I can say this is by far the best book I have read on becoming a successful online learner. I WILL recommend this book to my learners." Dr. Dani Babb Author and Professor
Tempe, AZ (PRWEB) September 7, 2010
The Online Student's User Manual had been published less than two weeks by the time a well-respected Arizona technical university sought to include it as required reading for all of their new online learners.
Some of the things the new online student will learn from Dr. Hamilton's book include:
*computer and software requirements
*how to use the search engines and upload assignments
*how to organize and manage your time
*how to track and schedule your assignments
*how to communicate effectively with your professors and fellow students
*how to maximize your grade
*what mistakes to avoid
*how to create measurable goals and stay motivated
*how to prepare for tests…and so much more.
Dr. Hamilton currently works as an online professor for 6 different universities. She has taken her experiences and incorporated them into her book to help online learners succeed. Now she is taking it one step further, as she shares her expertise with other online professionals. Dr. Hamilton will be conducting a Student Success Strategies Webinar for The Sloan-Consortium, Sloan-C, on October 27, 2010 at 2:00 pm EST. Sloan-C is an institutional and professional organization that integrates online education into mainstream education For more information go to SloanConsortium.org or click here.
Online professors who attend this webinar will learn ways to improve their students' skills in the following areas:
*Navigation
*Terminology
*Academic Honesty
*Goal Setting
*Time Management
*Motivation
*Increasing Retention
*Understanding Learning Preferences
*Writing and Formatting
*Test Preparation Techniques
About the Author
Diane Hamilton currently teaches bachelor-, master-, and doctoral-level courses. Along with her teaching experience, she has a Doctorate Degree in Business Management and more than twenty-five years of business and management-related experience. To find out more about her writing or to schedule an interview, visit her website at http://drdianehamilton.com or her blog at http://drdianehamilton.wordpress.com/. Review copies are available.
The Online Student's User Manual is available in paperback and digital formats–August, 2010 ($14.95/ Amazon). ISBN: 0982742800/9780982742808 Approximately –184 pages
###