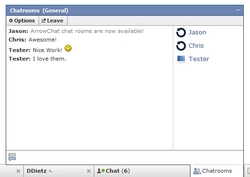 We've focused this ArrowChat update on what the customers want
Las Vegas, NV (PRWEB) September 6, 2010
ArrowChat.com announces the launch of chat rooms with the release of its' new v0.2 update. ArrowChat, a jQuery-based chat software for Web sites, now has the ability to create chat rooms where everyone can chat in the same lobby. Along with this update comes the ability to create announcements, set administrators, turn of buddy lists, allow users to change themes, and much more. ArrowChat's performance and efficiency was also boosted in the update, and large sites should no longer have any issues.
"We've focused this ArrowChat update on what the customers want," says Jason Stackman, CEO and Founder of ArrowChat.
Until now, ArrowChat was mainly designed for one-on-one chat with users that were friends. Chat rooms now allow users to join any lobby and talk to anyone regardless of friendship status. The installation guide has also been redone to make installing ArrowChat easier than ever.
Similar to Facebook Chat, ArrowChat is a pop out chat service that is placed at the bottom of a Web site, making it easily and readily accessible to those who are using it. The script is fully customizable and scalable from within the software's administration panel, which enables users to create a system best suited to their needs. Among other features, ArrowChat can be customized with optional animations such as slideIn, slideDown, fadeIn, fadeOut and bounce animations. An applications menu with either links or full pop out applications can also be added to ArrowChat. Users can also create and add their own applications with ease and can download a variety of modifications, themes and plugins from the company's store.
For more information about ArrowChat or its customizable and scalable chat platform, visit http://www.ArrowChat.com.
###