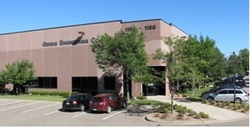 Burnsville, MN (PRWEB) September 9, 2010
Gerbig Engineering Company has completed moving to a new location with increased square footage in Burnsville, Minnesota. Gerbig Engineering, a designer, fabricator and installer of modular cleanrooms and cleanroom equipment, fully occupied the remodeled facility in August 2010.
"This larger space will allow us to better serve our customers by streamlining our production and carrying more stock items," said Kimberly Robertson, President. "We are excited about the opportunity to continue to expand our product line."
The new location at 1198 East Cliff Road, Burnsville, MN 55337 provides expanded production, warehouse and office areas. A laboratory area for cleanroom environmental monitoring and room for a future cleanroom products testing lab are also included in the space.
"Our business will be more efficient for production, and have increased capabilities for new product development, testing and to serve our customers special needs," according to Fred Gerbig, owner of Gerbig Engineering. "As our company has grown we have needed a larger area to fulfill the increased demand for our products."
The new location will allow for increased stocking cleanroom specific components including HEPA fan filters and AireCell modular cleanroom construction components including aluminum structural framework profiles and wall panels.
About Gerbig Engineering
Founded in 1985, Gerbig Engineering is a privately owned company headquartered in Burnsville, Minnesota with a second facility in North Branch, MN specializing in clean benches and devices. Mr. Gerbig has over 40 years of experience in the cleanroom industry. Gerbig Engineering specializes in design, fabrication and installation of modular cleanroom systems including modular cleanrooms, softwall cleanrooms and workstations. Gerbig Engineering also performs cleanroom certification and validation. The AireCell products are used in many applications including medical cleanrooms, pharmaceutical cleanrooms, semiconductor cleanrooms and cleanrooms for injection molding. For more information please go to http://www.gerbig.com.
Gerbig Engineering Company
1198 East Cliff Road
Burnsville, MN 55337
# # #