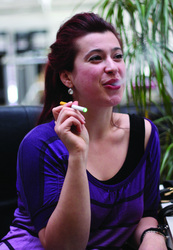 Gamucci LTD of the UK, a respected manufacturer of electronic cigarettes, currently makes no claims of any kind that would reflect its products as "healthier" alternatives to regular cigarettes
(PRWEB) September 10, 2010
On September 8, 2010 the United States Food and Drug Administration (FDA) sent a warning letter to an entity named "Gamucci America" t/a Smokey Bayou Inc, a distributor of Electronic Cigarettes. Gamucci LTD of the United Kingdom is in no way affiliated with Gamucci America.
In its letter, the FDA cited Gamucci America with a number of violations including selling a misbranded adulterated product for making claims that Gamucci America's products were "healthier" than regular cigarettes, and that they could be used as an aid to stop smoking regular cigarettes. Gamucci LTD of the UK, a respected manufacturer of electronic cigarettes, currently makes no claims of any kind that would reflect its products as "healthier" alternatives to regular cigarettes, nor has it made any claims its products may be used as "cessation aids" to help people stop smoking.
The FDA categorizes the claims made by Gamucci America as "structure function" claims, in other words the product offer some health "benefit" to the user. Gamucci LTD of the UK has never made any "structure function" claims regarding its products, and has gone to great lengths to ensure that its packaging and advertising make no health claims of any kind.
Furthermore, Gamucci LTD is analyzing all its options in this instance. Gamucci LTD has spent several years making "Gamucci" the premier brand of electronic cigarettes.
Gamucci LTD has notified the FDA of the confusion its warning letter has created, and asked the FDA to take steps to distinguish the two entities.
Finally, Gamucci LTD of the UK wants to be crystal clear it has no affiliation of any kind with "Gamucci America" t/a Smokey Bayou.
More information of Gamucci electronic cigarettes can be found by visting gamucci.com
###