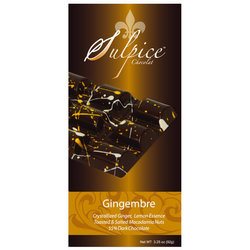 "What better way to enrich that experience than to eat premium chocolate candy that is not only delicious, but also pure art."
Chicago, IL (PRWEB) October 1, 2010
Sulpice Chocolat is proud to announce the launch of its online store at http://www.sulpicechocolat.com. Founded in January 2010, Sulpice Chocolat is the first and only chocolate company focused on creating deliciously tempting chocolate candy bar creations with an artistic twist –each chocolate bar is hand painted. These candy bars come in eight decadent flavors replicating the intensity of taste previously only found in truffles. The result is a candy bar that tempts the palette while drawing in the eye. Sulpice Chocolat's tempting treats are works of art that capture the essence of pure beauty. It is this pairing of visual allure with decadent flavors that perfectly accentuates the chocolate's uniqueness.
Using traditional artisan techniques, Sulpice Chocolat crafts its candy bars into two categories – milk chocolate bars and dark chocolate bars. Particular attention is then paid to the flavor combinations created by the addition of the finest spices to premium Belgian chocolate. The team is devoted to developing flavors that enhance the chocolate and emphasize the different flavor notes naturally formed during the chocolate making process. This ensures that the chocolate candy bars will never be too bitter and are of incomparable quality, and explains why those who have tasted it agree that these chocolate bars live up to their reputation for superior flavor and extreme beauty.
Sulpice Chocolat's painted chocolate bars are currently available online at http://www.sulpicechocolat.com and are coming soon to fine retail establishments in the greater Chicagoland area. For more information please contact info(at)sulpicechocolat(dot)com
###