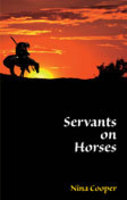 "Set it down accurately," he had told Eva when she was of age but not yet married. "Never let our Muskogee people forget...
Waitsfield, VT (PRWEB) September 30, 2010
Distinction Press announces the publication of the works of Nina Cooper, Ph.D. of Austin, Texas—Servants on Horses and Selected Letters of General Thomas Woodward's Reminiscences. Using historical records focusing on the turbulent years in the early 1800s, Cooper offers history from the Indians' point of view contrasting with that of one of President Andrew Jackson's generals who fought them.
Based on her own family's history in Servants on Horses, Cooper relates her great-great-grandfather's history through her grandmother's writings, based on preserved family records.
As told by his granddaughter, Eva Bailey, on the occasion of her 93rd birthday to a local county newspaper, Bailey recounts her family's struggle to assimilate into White Man's culture while coming to terms with the annihilation of their Muskogee culture.
Servants on Horses is a harrowing history of a turbulent time in the history of the American South. As tribal members fought White Man, and each other to retain their identity as well as their lands and culture. Native Americans who didn't assimilate into White Man's society, were forcibly removed from their land, under orders from President Andrew Jackson whose Indian Removal Act passed by one vote in Congress on May 26, 1830 in spite of a Supreme Court decision to the contrary.
In contrast, the Selected Letters of General Thomas Woodward's Reminiscences sides with Andrew Jackson's campaign to eliminate Native Americans from their lands. Indian scout, friend of General Andrew Jackson, and a slave owner, General Thomas S. Woodward was an active participant in the Muskogee Creek Indian Wars. During a two-year period, 1857–1859, he submitted letters to J. J. Hooker, editor of the Montgomery, Alabama Mail correcting errors, misinformation and the romanticized versions of the history of the period he found in Colonel Albert James Pickett's History of Alabama. The editor, with his permission, published those letters periodically, and after Woodward's death in December 1859, as a collection of reminiscences. Gifted with a remarkable memory, he wrote letters filled with first-hand details of the period that ended with the Indian Removal Act, by which the United States Government, under President Andrew Jackson, expropriated the remainder of Muskogee lands in Georgia and Alabama.
In his letters he shows himself both ironic and amused at his own role in those events and does not apologize for his life. He records his admiration for some of those on both sides of the conflicts, Creeks, Mixed-blood, and Whites. As an historian, he was honest and fair, but a man molded by his time and place. And, as he says in his last letter published during his lifetime: "Peace to the Good and Brave."
###