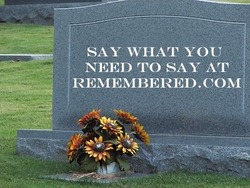 "Everyone has their own way of coping with grief," said Andrew Jorgensen, President. "We want to create a healthy community feeling that celebrates each person's lifetime."
Salt Lake City, UT (PRWEB) September 27, 2010
Some call it a virtual headstone or simply an online memorial, a new website incorporates social networking with helping to cope with bereavement for the deceased.
Remembered.com allows anyone with a computer to easily create a personal website dedicated to their loved one. Starting with a short biography - then adding poems, pictures, and stories, the "curator" creates a foundation of the memorial. Once created, the social networking engine allows you to invite friends, co-workers, and family from around the world via email or Facebook.
The invitees then add their own photos, comments, and anecdotes to complete an online legacy to the departed. The goal of Remembered.com is to help people during a difficult time in their life. The website removes time and distance from the bereavement process, helping those left behind surround themselves virtually with others who can share condolences, thoughts, and memories.
Every memorial has a URL (e.g. http://johndoe.remembered.com) that is easy to share with others, but for security purposes a user registration is first required. "Every lifetime is a complex interaction of events and people," said Adolfo Espadas, Lead Developer of Remembered.com. "When creating this site we had to balance many sensitive issues such as religion, privacy, and security into the caring of a person's legacy."
Remembered.com is free for anyone to use and create a memorial for 30 days. There is a nominal extra charge for those wishing to create a private memorial that is by-invitation only.
###