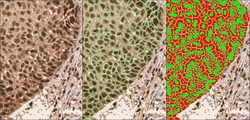 While digital pathology has the remarkable ability to remove geographic barriers, Flagship's Cambridge area customers have expressed interest in local access to quantitative histopathology services
Cambridge, MA (PRWEB) September 14, 2010
Flagship Biosciences LLC, a provider of digital pathology services, has opened a local digital pathology office in the Boston suburbs to better support the growing demand for local quantitative histopathology services. The office is staffed by a board-certified pathologist, a scanning and image analysis technician, and digital pathology scanners.
"While digital pathology has the remarkable ability to remove geographic barriers, Flagship's Cambridge area customers have expressed interest in local access to quantitative histopathology services," said Dr. Frank Voelker, DVM, DACVP, who leads the new office. The ability for pharmaceutical researchers to sit down in person and discuss study designs and image analysis approaches in tissue with a local pathologist is very helpful. While our customers can view all of our tissue results remotely on each slide via a web-based portal, there is still no replacement for individual interaction in person. Many of these studies contain hundreds of glass slides, and being able to teach and share information with our Cambridge area customers can be very useful."
Dr. Frank Voelker leads the Boston Flagship office, and has had a distinguished career in pathology in the Boston area, including 12 years at Novartis Institutes for Biomedical Research, where he was founder and head of the Tissue Biomarker Laboratory and later Section Head of the Marker Localization and Assays Group. He was an early pioneer in the use of quantitative image analysis for beta cell mass measurements in diabetic animal models.
"We believe this type of laboratory office for quantitative pathology work is the wave of the future, said Dr. David Young, DVM, DABT, DACVP, President of Flagship Biosciences. "Rather than pathologists setting up an office with a microscope and boxes of glass slides, the Flagship office includes a board-certified pathologist, with a digital workspace of image analysis tools and a web-based portal. A technician who helps with the scanning and image analysis is part of the pathologist's office of the future".
The new Flagship Office opened in September in Quincy, Massachussetts. It is part of a general trend of movement of biotech companies into the Boston suburbs.
About Digital Pathology
Digital pathology is the use of whole slide scanning rather than glass slides for analysis of tissue. The technology facilitates remote and distributed pathology environments, and is considered a transforming technology within the discipline of anatomic pathology. The use of whole slide images not only removes geographic barriers, but also allows for computer assisted quantitative analysis. This is an advantage that can be tremendously helpful in making efficacy and toxicity measurements more reproducible and accurate in pharmaceutical drug development, especially in discovery science and oncology companion diagnostics programs.
About Flagship Biosciences
Flagship Biosciences is a pathologist-owned company whose mission is to improve tissue assessment in pharmaceutical and medical device development. Flagship's services include quantitative pathology assessment on-demand, low-cost digital pathology slide scanning, secure hosting, pathologist-supervised immunohistochemistry and histology placement, and custom image analysis and companion diagnostics development. All services are reviewed and supervised by board-certified pathologists.
###