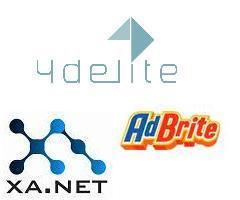 ...the ad creation bottleneck hasn't effectively been addressed until now.
San Francisco, CA (PRWEB) September 14, 2010
4delite (http://www.4delite.com), the company who recently debuted its rich media publishing platform for online and mobile advertisers at SF New Tech (http://www.sfnewtech), has launched its Turn-key Partner Program. Now, ad exchanges and ad networks in search of meaningful ways to contribute added-value to their customers can do so by providing access to the 4delite platform.
"Ad placement has been made a lot easier thanks to ad networks and exchanges, but the ad creation bottleneck hasn't effectively been addressed until now," said CEO and Co-founder Eugene Walden, "We're excited to see leaders in this arena pave the way with 4delite to easier ad development for their customer base of advertisers and agencies."
4delite's Turn-key Partners include:

AdBrite: a completely transparent and effective advertising exchange focused on maximizing ROI for advertisers and publisher yield through best in class targeting and optimization technology.
XA.net: Offers proprietary real-time bidding and audience management technology, delivered through an easy and intuitive interface.
Iggy Fanlo, AdBrite CEO says, "Being a Turn-key Partner at 4delite works for us. Every phase of an online campaign is about maximizing revenue, and the 4delite display ad creation platform makes it easier than ever for our customers to save time and money at every stage of their ad campaign."
4delite also offers licenses to enterprise customers, and enterprise subscription packages on a monthly basis for agency seats.
About 4delite (http://www.4delite.com)
4delite is an angel-funded start-up, founded by a trio of Silicon Valley veterans: Eugene Walden, Andy Laursen and Mary Ray. Based in San Francisco, the company offers a cloud-based rich media publishing platform -- the first self-serve solution for advertisers who want to create exportable rich media ads that work across mobile and web platforms, including the iPhone and iPad. Its board of advisors include: Mike Herring, Roger Lang, Will Price, Steve Cutcliffe and Jon Staenberg.
About AdBrite (http://www.adbrite.com)
AdBrite is an online ad exchange that serves over 1 billion impressions to over 150 million people on over 120,000 sites every day. We give our partners total, unfettered access to their campaigns. We also give our customers access to best-in-class targeting, data and optimization technology and client service. Whether you are looking to maximize campaign ROI or publisher yield, AdBrite is the most effective, transparent place to do it. AdBrite was founded by Philip Kaplan and Gidon Wise in 2004 and is headquartered in San Francisco, California. AdBrite is backed by venture capital firms Sequoia Capital, DAG Ventures, Artis Capital and Mitsui Ventures. AdBrite and The Internet's Ad Marketplace are registered trademarks of AdBrite, Inc. in the United States and other countries. All other trademarks used on this site are the property of their respective owners.
About XA.net
XA.net (http://www.xa.net) provides technologies and services that enable advertisers to buy, manage, and optimize online media and data through one intuitive, easy-to-use platform for the most efficient, targeted, and performance-driven ad spend possible.
###