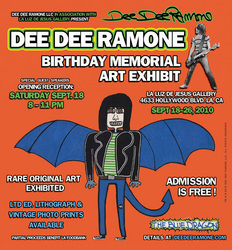 Dee Dee's spirit truly lives in these paintings and when you experience them up close, its very obvious.
Los Angeles, CA (PRWEB) September 16, 2010
Dee Dee Ramone Birthday Memorial Art Show opens Saturday, Sept. 18th at La Luz De Jesus Gallery in Los Angeles, CA.
Dee Dee Ramone will forever be an enigmatic punk rock icon. While most are familiar with his musical legacy as a founding member and songwriter in the world famous Ramones, many are less aware of his talent for art and painting. Like Dee Dee, the work is rebellious, dynamic, eccentric and comedic. An exhibition of over thirty original pieces have been assembled, many of which will be displayed for the very first time at this extraordinary event sanctioned by Dee Dee's Estate to honor the rock legend.
Rare, vintage images of Dee Dee have been cherry-picked from the critically acclaimed, Jenny Lens Photo Archive and will be available for purchase as oversized, signed, numbered, museum quality prints. Hailed as the most published first-wave west coast punk photographer in the history of the movement, Jenny will share her experiences with the Ramones at the opening night reception, specifically citing Dee Dee as the reason she picked up a camera initiating her prolific body of work from 1976-1980.
A special Limited Edition, 18" x 24" screen-printed event poster featuring one of Dee Dee's quintessential self-portraits: "Dee Dee Ramone: The Blue Dragon" will be released starting at 7pm on September 18th. The print, limited to an edition of 150 pcs, also incorporates the iconic Ramones Eagle logo, appearing courtesy of Ramones Productions Inc. in support of the event.
Admission to the exhibition is free and open to the general public. A portion of net proceeds from the sale of the Ltd Ed. screen-printed event poster and archival photos will benefit the LA Regional Food bank via donation in Dee Dee's name.
Barbara Ramone-Zampini, wife of the late seminal punk legend and longtime collaborator in his solo career in both music and art explains: "It's wonderful to have the opportunity to share these rare works with fans to fully appreciate in person. Dee Dee's spirit truly lives in these paintings and when you experience them up close, its very obvious. He always talked about helping children & gave to the homeless all the time. Dee Dee was very generous, more than most will ever know. I think he'd be really proud that he continues to help people today through his art."
John Cafiero, manager for Dee Dee Ramone, LLC & Chief of Staff of the Johnny Ramone Army states: "I think it's a great way to pay homage to Dee Dee. He was as individualistic as anyone will ever be, so to have an event reflective of his unique persona and wildly creative spirit was really important to us. I'm confident this is it. I know he'll be there celebrating with us and thrilled that people are appreciating his life's work on so many different levels."
This special birthday memorial will celebrate the many facets of Dee Dee Ramone, and special guests will reflect on the man, his music, and an eclectic life of artistic fulfillment.
###