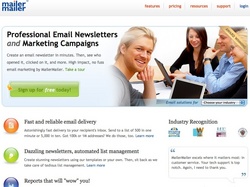 Clean, clear and pretty design with very short and comprehensible explanations made this site a pleasure.
Rockville, MD (PRWEB) September 16, 2010
The Web Marketing Association (WMA) has awarded MailerMailer with the 2010 WebAward for Outstanding Website. Each year the Web Marketing Association judges web sites across 96 industries while setting the standard of excellence for all website development.
All entries are judged by a panel of independent Internet experts in such areas including design, interactivity, technology, content, innovation, copywriting, and ease of use. MailerMailer outscored the Industry Average as well as the WebAward Average in all seven categories.
Judges commented favorably toward MailerMailer, highlighting its design and ease of use. "I like the use of white space on the page. Not cluttered, but still able to get the message across," said one WMA judge.
"Clean, clear and pretty design with very short and comprehensible explanations made this site a pleasure," commented a second WMA judge, "If I were a client I would be very happy as support seemed helpful and all aspects were covered and easy to find."
This is the third consecutive year for MailerMailer to win a WebAward. Last year MailerMailer received the WebAward for Application Service Provider Standard of Excellence and in 2008 was named the Best Email Website. In an effort to provide the best experience possible, MailerMailer continuously makes site enhancements allowing the creation and management of emails to be easier and faster. In addition, MailerMailer provides customers with various resources including articles, ebooks, metrics reports, newsletters and an email dictionary for instant access to a wealth of information.
About MailerMailer Email Marketing
MailerMailer is a leading do-it-yourself email list management provider. Equipped with the latest email marketing technology, such as zip code radius targeting, image hosting and the fetch HTML from website feature, MailerMailer allows easy creation of professional email newsletters and campaigns. MailerMailer is part of a series of sites run by Khera Communications, which includes discussion group management tool, DiscussThis, and small business resource site, MoreBusiness.com. A free trial of this email marketing service is available at http://www.mailermailer.com.
About the Web Marketing Association
The Web Marketing Association is working to create a high standard of excellence for website development and marketing on the Internet. Staffed by volunteers, it is made up of Internet marketing, advertising, PR and design professionals who share an interest in improving the quality of website development and marketing on the Internet. Since 1997, the Web Marketing Association's annual WebAward Competition has been helping interactive professionals promote themselves, their companies, and their best work to the outside world. Now in its 14th year, the WebAward Competition has become the premier award event for Web developers and marketers worldwide.
###