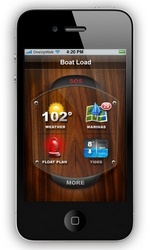 If you own a boat, this app has everything you need to set sail except the cooler full of icy beverages.
Traverse City, MI (PRWEB) September 16, 2010
Jimmy Buffet can sing about Margaritaville all he wants. Thanks to Oneupweb, there's no reason to be jealous. If you use their new Boat Load iPhone App, you can create and file the appropriate float plan to join him - whether if by sea, ocean or inland lake.
"This iPhone app is for Parrot Heads, sailors, yachters, fishermen, pontoon owners, speed boaters, kayakers and more," says Wehr. "If you own a boat, this app has everything you need to set sail except the cooler full of icy beverages."
But as Wehr points out, you can always use the app to set a reminder to grab the cooler before you head out the door.
Boat Load was designed to help any and all boaters on the water. Its features include:
o One glance/one tap dashboard display featuring real-time weather and tide updates
o Integrated GPS and mapping tools for locating ports, marinas and supply stations
o Geo-tagging capabilities on photos, trip notes and insurance claims
o Real-time float plans--easy to use and share
o Accurate, real-time weather and tide forecasts for over 42,000 U.S. cities
o Point-of-interest (POI) trip planning tools
o Two-tap SOS button activates and confirms emergency 911 call
o Access to even more navigation tools, directories and planning features
"This is your all-in-one boating app, and there's never been another one like it," says Wehr. "We call it Boat Load because it is packed-full of features you won't find anywhere else."
The Boat Load app is currently available in the iTunes store for a one-time download fee of $4.99.
To contact Oneupweb about custom-designing an app for your business, please visit OneUpWeb.com, email info@oneupweb.com or call 877.568.7477.
About Oneupweb
Oneupweb has been an innovator in digital marketing for more than a decade, creating integrated online marketing plans that incorporate natural search engine optimization (SEO), paid search marketing (PPC), social media marketing, digital pr, display advertising, analytics, creative services, mobile marketing, website design, web 2.0 technology, audio/video/podcasting, and research, training and consultation. Heralded by an independent research firm for their leadership team, Midwestern work ethic and solid experience in optimizing complicated sites, Oneupweb has been named a Top 25 Search Marketing Agency by Advertising Age for four consecutive years, and CEO Lisa Wehr is recognized as an Ernst & Young Entrepreneur of the Year. The company publishes an award-winning blog entitled StraightUpSearch, and an award-winning monthly newsletter entitled OneUp Low-Down. Oneupweb is a privately held company located in Traverse City, Michigan. For more information on Oneupweb, please call 231.922.9977, visit OneUpWeb.com or follow them on Twitter @Oneupweb and @LisaWehr.
###