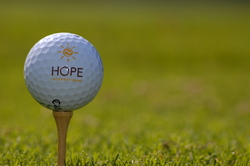 its unique desire to combine physical and spiritual ministry through the tool of microfinance.
Lancaster, PA (Vocus) September 15, 2010
Over 200 golfers will be hitting the links at Heritage Hills Golf Resort in York, Pa., on Friday, September 17, in an effort to drive out global poverty as participants in HOPE International's annual golf tournament.
HOPE International, a Lancaster, Pa.-based nonprofit network of microfinance institutions dedicated to alleviating physical and spiritual poverty in 14 countries around the world, is celebrating the 10th anniversary of this local Lancaster County event. The tournament has raised over $800,000 since its inception, impacting over 189,000 lives and enabling HOPE's clients worldwide to access life-changing financial services such as small loans, basic business training, and savings services.
"It is powerful to see the cumulative effect of one day of golf a year over ten years," states HOPE International founder Jeff Rutt. "When this tournament was created in 2000, no one would have forecast hundreds of thousands of lives would be impacted and given the opportunity to escape poverty."
Participating golfers will have the opportunity to golf on either Heritage Hills or Springwood golf courses, both part of Heritage Hills Golf Resort. Registration begins at 11 a.m., and the tournament officially kicks off with a shotgun start at 12:30 p.m. An awards dinner will be held immediately following the tournament with a special address from HOPE International's president, Peter Greer, and Bryan Hoppe, HOPE's Asia regional director, who has recently returned from working for two years in HOPE's Afghanistan program.
Opportunities are available for golfers and sponsors. To register a foursome or take advantage of sponsorship opportunities, please contact Lauren Fischer at 717-464-3220 x140. For more information or interviews, please contact Katie Straight, public relations coordinator, at 540-229-3152. http://www.hopeinternational.org
HOPE International (HOPE):
Headquartered in Lancaster, Pa., HOPE International empowers those living in need around the world to escape poverty by providing microloans, savings services, training, and mentoring to help people become self-sufficient. Founded in 1997 by Lancaster native and president of Keystone Custom Homes, Jeff Rutt, HOPE International is working in 14 of the poorest, least-served countries in Africa, Asia, Eastern Europe, and the Caribbean. HOPE is a Christian faith-based 501(c)(3) nonprofit organization focused on alleviating the many dimensions of poverty – physical, social, and spiritual – through microenterprise development.
Golf Tournament Keynote Speaker: Bryan Hoppe, Asia Regional Director, HOPE International
Bryan Hoppe began his tenure as Asia Regional Director in May 2010, on the heels of a 21-month term as chief financial officer for HOPE Afghanistan. While serving with HOPE Afghanistan, Bryan oversaw the design and implementation of policies and procedures for the finance and operations department and established networks with key players in Afghanistan's microfinance sector. Prior to his work with HOPE, Bryan gained both non-profit and for-profit experience, working with the Women's Self-Employment Project in Chicago and as an investment banker with Lehman Brothers in New York City. Bryan received his bachelor's degree from the University of Illinois and his Master's in public administration from the Robert Wagner Graduate School of Public Service at New York University.
President, HOPE International: Peter Greer
Peter Greer joined HOPE in July 2004, following extensive education and experience in the field of microfinance. Peter received a BS degree in international business from Messiah College, and he earned an MPP with a concentration in political and economic development from the Kennedy School of Government at Harvard University. Prior to his education at Harvard, Peter served as managing director for URWEGO Community Banking in Kigali, Rwanda for three years. He also served as a technical advisor for Self-Help Development Foundation (CARE Zimbabwe) in Bulawayo, Zimbabwe, and he worked as a microfinance advisor in Phnom Penh, Cambodia. While at Harvard, Peter studied HOPE's work in the Democratic Republic of Congo for a graduate thesis project. He says his interest in working for HOPE grew as he saw "its unique desire to combine physical and spiritual ministry through the tool of microfinance."
Founder, HOPE International: Jeff Rutt
Jeff Rutt is the founder of HOPE International and currently serves as the Chairman of the Board of Trustees. Jeff worked as a dairy farmer for almost a decade before becoming the founder and president of Keystone Custom Homes in 1992. Keystone Custom Homes has grown exponentially under his leadership. Jeff has been named the winner of the "Builder of the Year Award" by Builder Magazine a record three times and is the only homebuilder in the country to do so.
Jeff founded HOPE International in 1997 and has acted as Chairman of the Board since then. He believes that HOPE's work in microfinance and other complementary activities should be giving people and communities a "hand-up" rather than a "hand-out." Under his leadership, HOPE has grown and expanded to 14 countries, including Ukraine, China, Burundi, the Democratic Republic of the Congo, the Republic of Congo, Afghanistan, the Dominican Republic, Rwanda, Moldova, India, Russia, Haiti, the Philippines, and Romania.
Contact: Katie Straight
Public Relations Coordinator
HOPE International
540-229-3152
kstraight(at)hopeinternational(dot)org
###