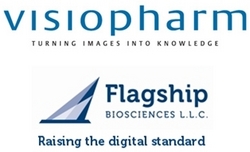 Whole slide stereology is no longer something that scientists delivering quantitative pathology results can afford to ignore.
Flagstaff, AZ (PRWEB) September 17, 2010
In recognition of the opportunities in Histoinformatics™, covering whole slide stereology and whole slide tissue pattern recognition for improving the measurement of efficacy and toxicity in pharmaceutical and medical device development, two leading firms announce a joint partnership.
Flagship Biosciences LLC is a US based pathologist-owned contract research organization that utilizes whole slide imaging to rapidly deliver quantitative data to its pharmaceutical and medical device customers. Visiopharm is a Denmark based Histoinformatics™ software company with a leading science pedigree in stereology and image analysis, with patented technology in the emerging area of whole slide stereology and in tissue pattern recognition capabilities and workflows.
Flagship Biosciences has selected Visiopharm's advanced image analysis modules and stereology applications as its primary platform for delivery of quantitative results to pharmaceutical and medical device clients. "The ability to offer advanced digital pathology analysis for efficacy and toxicity measurements is critical to both drug and device development. With the emerging opportunities in whole-slide stereology, we needed a software partner that would allow us to rapidly and effectively analyze large batches of slides, and are very pleased with the Visiopharm software system," said David Young, President and Chief Pathologist of Flagship Biosciences. "We consider Visiopharm's software to be the best of breed for advanced image analysis, and also to have the fastest pace of innovation in the industry."
"Visiopharm has many years of scientific leadership in stereology," said Steve Potts, CEO of Flagship Biosciences. "Whole-slide stereology is no longer something that scientists delivering quantitative pathology results can afford to ignore. Visiopharm's patent protected Whole Slide Stereology technology makes stereology several orders of magnitudes faster, more accessible and cost-effective. With these novel innovations, it is only a matter of time until stereology will become widespread and adopted in regular pharmaceutical and device tissue analysis. The biggest surprise we have had in working with Visiopharm is how many of the fundamental technical strengths of stereology can be applied in standard image analysis workflows – the radical improvements in tissue sampling approaches or the sophisticated pre- and post-processing of histology pattern recognition workflows. We see many applications for this technology in common brightfield and fluorescence analysis workflows."
"We are excited to be working with a pathologist-led digital CRO in the delivery of advanced software solutions," said Michael Grunkin, CEO of Visiopharm. The Flagship team is unique in the close interaction they have between their pathologists, image analysis experts, regulatory groups, and their customers. Flagship's ability to deliver image analysis results while working within regulatory guidelines in preclinical toxicology and oncology companion diagnostics helps to expand the use of image analysis and stereology into new areas. With the unique combination of knowledge in our two companies, we will soon be able to provide the software and services required to establish a full-fledged preclinical GLP and 21 CFR 11 clinical trials compliant high-throughput Histoinformatics™ platform for providing end-points based on image analysis /pattern recognition and stereology. We believe this will be very valuable for the biopharmaceutical industry in their endeavor to establish credible scientific data for making critical decisions" added Dr. Grunkin.
In the United States, Flagship Biosciences and Olympus America will be distributing Visiopharm software. Flagship will be assisting with pathologist and image analysis expert training in the use of the software for advanced image analysis workflows. Visiopharm's expert stereology scientists will collaborate with Flagship in offering whole-slide stereology services.
About Visiopharm
Visiopharm is a leading provider of advanced software for quantitative microscopy for life sciences. Visiopharm software combines the strengths of image analysis and stereology in one platform. International pharmaceutical companies, biotech companies, universities, hospitals and contract research organizations are successfully using Visiopharm software for deriving scientifically, trustworthy data with high information content and outstanding efficiency.
About Flagship Biosciences
Flagship Biosciences LLC is a pathologist-owned company whose mission is to improve tissue assessment in pharmaceutical and medical device development. Flagship's services include quantitative pathology assessment on-demand, low-cost digital pathology slide scanning, secure hosting, pathologist-supervised IHC and histology placement, and custom image analysis and companion diagnostics development. All of their services are reviewed and supervised by board-certified pathologists
###