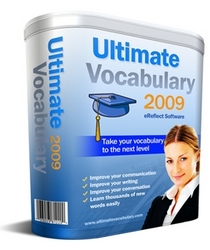 (PRWEB) September 18, 2010
A new product on the market has English-speakers impressing their peers, raising their grade scores, and improving their overall communication in just 10-15 minutes per day.
Ultimate Vocabulary Software is a dynamic, word-enhancing tool that can help greatly increase English-language vocabulary. The software is based on the employment of 7 basic strategies that have been proven to work:

Using Word Discover™, which provides usage examples, word history, visual word explorer, and more.
Learning more than 140,000 words, including pre-defined lists from virtually every well-known vocabulary program.
Partaking in easy and fun exercises to easily gain an understanding of powerful words.
Enabling Word Messenger™ to learn words while the user works without even trying.
Creating lists from the 142,647-word reference library to tailor to the user's specific needs.
Tracking progress by seeing which words the user has mastered and where they need improvement.
Hearing the proper pronunciation of words to learn how they should sound.
Whether one realizes it or not, the way we speak and use words can greatly affect the way that someone assesses us. If it is a job interview, a first date, or a final exam, failure to articulate oneself properly can have negative consequences. Overcoming these difficulties often involves hours of classes and hundreds – if not thousands – of dollars. With Ultimate Vocabulary, one will be able to achieve their goal of enhanced communication at an affordable price.
In today's economic climate, good jobs and careers are getting harder to find. By using Ultimate Vocabulary, users may be able to give themselves an edge over the competition. All of this can be achieved in less time per day than it takes to prepare a meal, bathe or drink a cup of coffee.
Quotes
"Using Ultimate Vocabulary has literally changed my life," says Jay Moore, a graphics designer. "My vocabulary has increased exponentially and so has my confidence. Even my friends have noticed a considerable difference."
"I've always been sceptical of software that purports to make you more articulate," says Jennifer Thompson, a Masters student in History. "But I have to say – Ultimate Vocabulary is the real deal. My writing and test scores have improved so much that I'm sure a PhD is in my future."
Quick Facts
Research suggests that a powerful vocabulary is the strongest predicator for career and life success.
Currently, the average adult typically only learns about 25 new words per year. With Ultimate Vocabulary, one can be well on their way to learning up to 14 new words per day – a giant improvement that will accelerate careers, raise test scores and instil confidence.
Many vocabulary-improving software applications can cost up to $500 – Ultimate Vocabulary offers consumers the best experience for less than a fifth of the cost.
Learn More
Find out more about this life-changing, career-enhancing software at http://www.ultimatevocabulary.com.
###