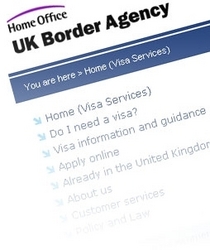 "With the 2012 Olympic Games right around the corner, you'll have millions of people around the world visiting the website to find out how to come and cheer on their countries. It's good the Government is prepared for that."
(PRWeb UK) September 21, 2010
The UK Border Agency has overhauled its website in an attempt to make the UK immigration process less complicated.
Numerous external stakeholders were consulted as part of the project, including Global Visas director Liam Clifford, whose immigration consultancy website receives millions of visits each year.
Clifford applauded the UKBA for taking his company's lead and aiming to simplify the UK visa application process with the website, which he said took "a number of years" to develop.
"It's already head and shoulders above most government websites out there," he said. "With the 2012 Olympic Games right around the corner, you'll have millions of people around the world visiting the website to find out how to come and cheer on their countries. It's good the Government is prepared for that."
"Previously they would have found the websites confusing and even ineffective, but now they've simplified who's involved and who's in charge, the improvement is obvious."
According to the website, the redesign is an "important first step in the UK Border Agency's plans to have one integrated website for all its customers in the UK and overseas".
UK visa application information can be found across three government websites. The redesign appears to be part of an attempt to integrate all of the related sites.
The UKBA said the aim of the new website was to "present information more clearly and help you find what you are looking for more easily".
Editor's Notes:

###