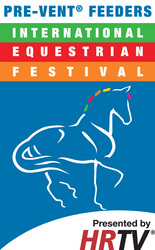 Lexington, KY (PRWEB) September 21, 2010
In the spirit of the proud tradition established by previous host cities, the Pre-Vent Feeders International Equestrian Festival, presented by HRTV, welcomes visitors to downtown Lexington for a celebration worthy of the "Horse Capital of the World." The Festival, which takes place at the Lexington Convention Center September 25 – October 10, offers something for everyone – from the experienced equestrian to the casual observer. Tickets are available at the door for only $5.
EVENT HIGHLIGHTS
The Pre-Vent Feeders International Equestrian Festival, presented by HRTV, will be bustling with activity from 1 p.m. – 9 p.m. daily. Please visit http://www.internationalequestrianfestival.com for a complete schedule of events.
The following activities and amenities are available for the entire 16-day Festival:
International Shopping Expo of more than 200 exhibitors
Hollywood Casino Hospitality Atrium - Hollywood Casino promises to dazzle International Equestrian Festival attendees by transforming the Lexington Convention Center Atrium into a star-studded spectacular. The Hollywood Casino Hospitality Atrium features entertainment from the Ultimate 70s and 80s-themed Boogie Nights nightclub; Cher, Madonna, Rod Stewart and other star tribute performances; gaming demonstrations; and daily showings of classic Hollywood movies. Hollywood Casino is also throwing a free and open to the public Opening Night Party on Sunday, September 26 to kick-off the International Equestrian Festival with glitz and glam style.
Ecotrack Park horse demonstrations, presented by Nutrena - Martin Collins Equine Surfaces, the market-leading synthetic footing innovator from Great Britain, is delighted to provide the International Equestrian Festival with its groundbreaking Ecotrack surface for the live horse demonstration area in the festival's "Ecotrack Park." Surrounded by the international shopping expo exhibitors, Ecotrack Park, presented by Nutrena, serves as the heart of the Festival's daily excitement, with more than 120 hours of celebrity presentations, instructional sessions and horse demonstrations.
Educational seminars – The International Equestrian Festival Seminar Series offers educational insights from respected equine professionals and leaders. Several seminars are held each day during the Festival, covering a wide variety of topics. Seminars are free with paid admission to the Festival.
Equestrian celebrities – include internationally respected trainer and clinician Julie Goodnight; acclaimed trainer and author Monty Roberts; Mark Peterson and Dusty, America's smartest horse; rider biomechanics expert Colleen Kelly; and Hollywood horse trainer Rex Peterson.
"Celebrating the Equine Spirit" parade – Horse Capital Productions and the International Equestrian Festival are the main feature of the city's parade, held on September 26 beginning at 6 p.m.
Show floor broadcasts by HRTV, who is introducing their new programming format at the Festival, and Horse Radio Network and WTVQ – ABC 36
Horse breed and association appreciation days and demonstrations
Country Music by Templeton Thompson
Thoroughbred horse farm tours (additional fee applies)
Lexington Convention & Visitors Bureau tourist services
Segway rides by Segway of Paducah
Chance to win great prizes!
The 2010 Pre-Vent Feeders International Equestrian Festival presented by HRTV (September 25 – October 10, 2010), is a Horse Capital Productions event sponsored by Pre-Vent Feeders, HRTV, ABC-36 television, The UPS Store, Nutrena, Hollywood Casino, Bayer Animal Health, Martin Collins International, Spoga Horse, Kraft Brothers Inc., Segway of Paducah and Julie Goodnight, with partnerships including Eastern Kentucky University and the Kentucky Horse Council, and support from Horse Radio Network. Horse Capital Productions, which also runs the Kentucky horse farm tours online ticketing system http://www.HorseCapitalTours.com, is based in Lexington, the heart of Kentucky bluegrass horse country, and operates under the philosophy of doing what is right for the horse, the community and the sport of horses. Horse Capital Productions, LLC and the International Equestrian Festival are not sponsors or affiliates of the 2010 Alltech World Equestrian Games.
# # #