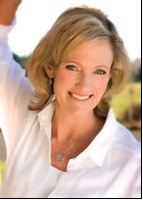 Los Angeles, CA (Vocus) September 21, 2010
New York Times Bestselling author Karen Kingsbury, America's favorite inspirational novelist with over 16 million books in print, presents Unlocked: A Love Story (Zondervan), which is slated for release on October 12, 2010.
With recent coverage in Time magazine and on NBC's TODAY Show, Kingsbury's Life-Changing Fiction™ attracts readers from all walks of life and from around the world. Through her 100,000 Facebook fans (which she calls friends), Kingsbury keeps up consistently with a solid core of devotees who thrive on Karen's consistent message of hope, faith and courage. Her works have produced multiple bestsellers and have positioned her as one of the most sought after authors in the world of fiction today.
In conjunction with her upcoming release Unlocked, Kingsbury will host "Karen Kingsbury Live," a special 1 hour live event on Tuesday, October 12 at 5:00 pm. PST / 8:00 pm. EST, streamed at KarenKingsbury.com/Live. The special will demonstrate the "head, heart and hands" for the Autistic community, bringing a much needed awareness to this hot topic issue. The event will provide special behind-the-scenes insight into the writing of the book and Kingsbury's personal connection to the disease, through family friends who inspired Unlocked.
Kinsgbury will also be joined by Rob and Ingrid Williams, parents of autistic twins, Carrie and Mitchell Thatcher, the family who inspired the story of Unlocked, and Melinda Chapman, educational expert in the field of autism for the live event, which will be attended by book clubs, small groups, "girls' night-out groups," church groups, and numerous other attendees. The event will be free of charge, with an opportunity to donate to "Autism Speaks."
Kingsbury is also a nationally known speaker with several women's groups, speaking on a regular basis to thousands of women nationwide. In addition to her overwhelming success as an author, Kingsbury is a recent songwriter and also has had several movies optioned for production. Currently, her novel Like Dandelion Dust will be in theaters September 24, 2010 as a major motion picture release.
In her upcoming offering Unlocked, releasing the same day as the show, Kingsbury addresses one of today's issue topics of autism as well as issues involving child bullying and other teen issues. The topics of the book and its subjects were inspired by personal experiences and the lives of actual friends of Kingsbury, making these issues close to home and a true passion for her to address and speak to, through this most current writing. As the book presents these issues, it offers Kingsbury a platform from which to address each topic and powerfully brings awareness and encourages action in various forms from the readers and all who hear its message.
In Unlocked, character Holden Harris is an autistic eighteen-year-old who is bullied at school. Ella Reynolds is part of the "in" crowd— who befriends Holden but has problems of her own at home. In her trademark way, Kingsbury tackles real-life issues of high school bullying, autism, self-esteem and ultimately … acceptance and love.
About UNLOCKED:
Page Count: 336
9780310266235
Street Date: October 12, 2010
World excluding South Africa
Publisher: Zondervan
About Karen Kingsbury:
Karen Kingsbury is America's favorite inspirational novelist with nearly 16 million books sold. Her Life-Changing Fiction™ has produced multiple bestsellers, including The Above The Line Series books: Take One, Take Two, Take Three and Take Four, Every Now and Then, Between Sundays, Even Now, One Tuesday Morning, Beyond Tuesday Morning and Ever After, which was the first novel to be named Christian Book of the Year in 2007 by the Evangelical Christian Publishers Associate (ECPA). An award-winning author and newly published songwriter, Karen has several books currently in production as major motion pictures. Karen lives in Washington with her husband, Don and their six children, three of whom were adopted from Haiti. Visit Karen's website at http://www.karenkingsbury.com.
About Zondervan
Zondervan is the world's leading Christian publisher of books whose authors are noted for their excellence in the craft of writing as well as their worthy contribution to the ongoing global evangelical conversation. The works published by Zondervan not only confirm readers' faith and understanding, they also challenge and stretch readers' thinking. For more than 75 years, Zondervan has delivered transformational Christian experiences through general, ministry and academic resources by influential leaders and emerging voices, and been honored with more Christian Book Awards than any other publisher. Headquartered in Grand Rapids, Mich., Zondervan publishes bestselling books, audio, video, curriculum, software, and digital products in such categories as biblical languages and studies, biography, business, contemporary issues, counseling, cultural, devotional, evangelism, family, fiction, history, inspiration, leadership, ministry, pastoral, personal development, prayer, philosophy, reference, relationships, textbooks, theology, youth and more. Zondervan resources are sold worldwide through retail stores, online, and by Zondervan ChurchSource, and are translated into nearly 200 languages in more than 60 countries. Visit Zondervan Books on the Internet at http://www.zondervan.com/books.
For interview opportunities please contact:
Lesley Burbridge-Bates
Rogers & Cowan
8687 Melrose Ave. 7th Floor
Los Angeles, CA 90069
310.562.0715 cell
lburbridge(at)rogersandcowan(dot)com
###