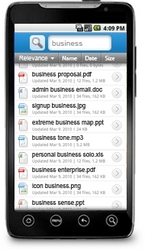 Mobile is one of the most transformative and potentially disruptive components of enterprise technology today, said Michael Gartenberg, Partner at Altimeter Group.
Palo Alto, Calif. (PRWEB) September 23, 2010
Cloud content management provider Box.net today announced that its Android app is now available for free on the Android Marketplace. The Box for Android app makes it easy for users to access, share and manage their business content on-the-go from all devices that support Android OS 2.0 and above, including the HTC Droid Incredible, Motorola Droid X and Samsung's Galaxy S series.
"Mobile is one of the most transformative and potentially disruptive components of enterprise technology today, and savvy IT departments are looking to stay ahead of the curve by supporting the devices that employees are already incorporating into their professional lives," said Michael Gartenberg, Partner at Altimeter Group. "Software vendors need to think beyond the desktop and extend their solutions to the mobile environment, and Android should be a priority as one of the fastest-growing mobile operating systems in the market today."
Android is becoming increasingly prevalent in the enterprise: according to an independent December 2009 report by Forrester Research, Inc. entitled Predictions 2010: Enterprise Mobility Accelerates Again, 10% of enterprises are expected to manage or support Android OS smartphones by the end of 2010. In addition to releasing a customized Box app for Android, the company is working with third-party developers to leverage its OpenBox Mobile platform and incorporate Box's content sharing, accessing and storage capabilities into other Android business applications. The Android app is a significant addition to Box's existing mobile platform, which includes iPhone and iPad apps with more than 200,000 downloads and 1 million content previews in Q2.
"We're excited that so many new devices and operating systems are emerging in the enterprise because they all represent opportunities for Box to provide a better and more connected experience to our customers," said Aaron Levie, co-founder and CEO, Box.net. "We'll continue to invest aggressively and strategically in our mobile platform, as extensibility to powerful operating systems like Android will be incredibly disruptive for the content management market and across categories of business software."
Box helps more than 4 million users and 60,000 businesses manage, share and collaborate on all their content in the cloud. Companies ranging from small businesses to large enterprises like Audi, DirecTV and T-Mobile use Box's cloud content management solution as a central hub for business content, which is then extensible to other people, platforms and devices. Box's Android App is supported by and fully integrated with Box, giving users the ability to:

Browse through files and folders;
Preview files, including documents, media files and Web documents;
Share Box links to files and folders via email;
Search for files and sort results by relevance, date updated, file size and name;
Upload files stored on your Android device.
To download the Box for Android App for free, please visit: https://www.box.net/features/mobile
For more information on Box.net, visit: http://www.box.net
About Box.net
Founded in 2005, Box provides cloud content management for more than 4 million users and companies ranging from small businesses to Fortune 500 companies. Box's dynamic, flexible content management and collaboration solution empowers users to access and share content online, and gives IT professionals unprecedented visibility into how content moves within their organizations and beyond. Content on Box can be shared internally and externally, accessed through iPad, iPhone and BlackBerry applications and extended to OpenBox partner applications such as Google Apps, NetSuite and Salesforce. Headquartered in Palo Alto, CA, Box is a privately held company and is backed by venture capital firms Draper Fisher Jurvetson, ScaleVP and U.S. Venture Partners.
# # #