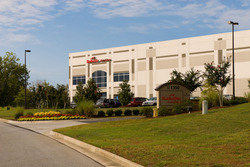 Being able to provide employment opportunities for the residents of the Braselton area and aid in the overall economic health of the Jackson County area is something we're very excited about
Braselton, GA (Vocus) September 23, 2010
Safelite AutoGlass® celebrated the official opening of its newest vehicle glass distribution center today. The 357,000 sq. ft. facility in Braselton, Ga., will process 3 million units of glass in 2011. Safelite AutoGlass® will have a significant impact on the town of just over 2,000, bringing 77 immediate jobs to the area, with an eventual 120 person workforce anticipated.
"Being able to provide employment opportunities for the residents of the Braselton area and aid in the overall economic health of the Jackson County area is something we're very excited about," said Tom Feeney, president and CEO of Safelite® Group. "We chose the area for its proximity to the I-85 corridor and access to the area's strong business community and workforce. We've received a very warm welcome from civic leaders and are looking forward to becoming an integral part of the community." He continued, "This new distribution center is key to our strategic growth plans, enabling us to more effectively serve the eastern half of the country. Employing the latest in parts logistics technology and some of the most innovative 'green' building techniques, the center will truly be a flagship operation."
Safelite AutoGlass® is partnering with Quick Start, Georgia's economic development program, to provide customized workforce training to its employees. Lanier Technical College also will assist Safelite AutoGlass® with ongoing training programs.
"Safelite's Braselton distribution center is a very real example of how Georgia's highly networked logistics infrastructure plays a vital role in bringing jobs and investment to communities throughout our state," said Heidi Green, commissioner of the Georgia Department of Economic Development. "As a Georgia Certified Work Ready Community, Jackson County has a pipeline of skilled talent that will benefit Safelite as it expands its Braselton workforce. We welcome the addition of Safelite® to Georgia's automotive industry, and look forward to the company's growth and success in our state."
To give back to the community, Safelite® made a special donation of $1,000 to the Jackson County Boys & Girls Club during today's grand opening event and facility tour.
"We are fortunate to have a new company like Safelite AutoGlass® in our community. We are excited about the job opportunities they bring and their sincere desire to contribute positively in many ways including job creation and environmental stewardship. Braselton is a town where our citizens can live, work and play which makes it a perfect fit for Safelite and our community," said Braselton Mayor Bill Orr.
Not only is Safelite AutoGlass® the largest vehicle glass repair and replacement company, the company is committed to bettering the world, particularly by building eco-friendly locations. In fact, Safelite® has reduced its carbon footprint by 15 tons this year. The company has applied to the U.S. Green Building Council for a Leadership in Energy & Environmental Design (LEED) certification. Examples of the environmental friendly design include:

Reduced storm water pollution by vehicle fluid leaks and mechanical equipment wastes
Increased water efficiency reducing consumption by 44 percent
Energy Star qualified equipment for more than 90 percent of all appliances, office equipment and electronics
Banned use of any CFC-based refrigerants in heating, ventilating and air conditioning systems to reduce stratospheric ozone depletion
Energy conservation with occupancy sensors on more than 75 percent of lighting
About Safelite AutoGlass®
Safelite AutoGlass®, founded in 1947, is the nation's leading provider of vehicle glass repair and replacement services, providing mobile service to more than 95 percent of the U.S. population in all 50 states. The Columbus, Ohio-based company employs 10,000 people across the United States and serves more than 3.8 million customers each year through its company-owned operations. For more information, visit http://www.safelite.com.
Media Contact:
Melina Metzger, Safelite® Group, 614.210.9232, 614.584.7204 (cell), melina.metzger(at)safelite(dot)com
###