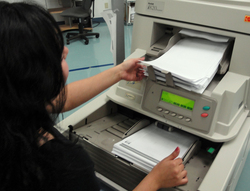 The files, some dating back to the 1930s, were extremely fragile and had to be handled with special care.
El Paso, TX (PRWEB) September 27, 2010
DATAMARK, Inc., in partnership with an 8A federal contractor, was contracted by the Wage and Hour Division (WHD) of the Department of Labor (DoL) to scan an estimated 2.5 million pages of paper records into digital image files for long term storage and retrieval.
The transformation from paper to electronic format supports retrieval by anyone who seeks access-- including use in current legal interpretations, policy determinations, and legislative and program analyses--limited solely as required by applicable law.
Files requiring document scanning services included: manuals, maps, newspaper clippings, blueprints, interoffice memos, regulatory documents, faxes and forms. Documents were composed of various page sizes, paper weights, paper colors, and ink colors. Many documents were written in pencil or printed on thermal facsimile paper and onionskin, which made them difficult to scan using conventional scanners.
"The files, some dating back to the 1930s, were extremely fragile and had to be handled with special care," said Ana Moreno, DATAMARK Project Manager. "Despite the challenging scanning requirements, we were able to use several different types of high-speed and flatbed scanners to successfully capture archival-quality images, while keeping the original documents intact."
DATAMARK personnel prepared the paper records for conversion by removing pages from Acco-type fasteners, removed paper clips and staples, unfolded, oriented all pages up-right/read-right, and taped any tears to prevent damage from conversion equipment.
After the document scanning was completed, the images were encrypted and securely delivered to the Department of Labor through the DATAMARK online viewing system and by DVD.
Many files contained personally identifiable information and had to be protected utilizing security controls as defined by federal regulations and DoL policy. DATAMARK met the requirements of the Privacy Act of 1984 and complied with all NARA, FISMA, OMB, NIST and DoL security regulations. DATAMARK employed security controls to safeguard the data in accordance with applicable federal laws, directives, policies, regulations, standards, guidance, and established service level agreements.
Due to the nature of the information contained in the records, and to provide rapid accessibility by WHD employees to the records being converted, DATAMARK developed a tracking system that monitored the specific files logged in and out of WHD control. The tracking system included the ability to identify where the file and associated data was within the conversion process, identified all personnel performing services on the file, and provided confirmation that all processing phases had been completed.
DATAMARK maintained a minimum copying and indexing accuracy level of 99% per field quality based on a project average and was able to turnaround 60,000 documents per week. The entire project took one year to complete.
About Wage and Hour Division (WHD)
WHD, currently within the Employment Standards Administration, was established on June 25, 1938, by the Fair Labor Standards Act (FLSA) of 1938. The agency enforces federal labor laws on minimum wage, overtime pay, recordkeeping, child labor, special employment, family and medical leave, migrant workers, lie detector tests, worker protections in certain temporary worker programs, and prevailing wages for government service and construction contracts.
About DATAMARK, Inc.
For over 20 years, DATAMARK, Inc. has been providing business process outsourcing solutions in the areas of document scanning and management, customer care, and Finance & Accounting to companies in the Freight & Transportation, Banking & Financial, Insurance, Manufacturing, Promotional Marketing & Fulfillment, Healthcare, and Government sectors. Based in the United States, DATAMARK manages a global workforce of over 2,000 employees to help companies reduce operating costs while improving productivity, flexibility, quality, and customer satisfaction. For more information, visit http://www.DATAMARK.net or call 1-800-477-1944.
# # #