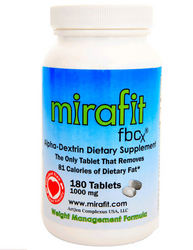 New Affiliate Program announced by the Makers of Mirafit fbcx.
Detroit, MI (PRWEB) September 28, 2010
Dubbed the "Fat Fighter" by the Detroit Fox Network affiliate and said to be showing "huge potential" by Canadian print media, ArtJen Complexus Holdings Corp. is pleased to announce that as part of its continuing effort to make its Fat Fighter, Mirafit fbcx, more readily available it has updated and improved its Web Affiliate program. The updated program is user-friendly and reimburses members a fixed rate per order with no ceiling on earnings. Customers' orders are tracked and affiliates are also compensated for repeat orders. Mirafit can be found on the web at http://www.mirafit.com or by telephone at 1-877-427-8536.
Web site owners interested in becoming Mirafit affiliates need only visit the Mirafit website to click on Affiliate Program and follow the simple instructions.
Naturally occurring Mirafit fbcx, a very promising weapon in the war on obesity is available at select retailers in both Canada and the USA. The Mirafit website features a convenient Store Locator function to assist the consumer in finding their nearest retailer.
Recent upgrades to the Mirafit site include a new Studies page detailing, among other reports, recent findings presented, by co-inventor Dr. Catherine Jen, of a double blind placebo controlled clinical trial on over weight but not obese volunteers. This study was conducted by researchers at the UC-Davis Medical Center and was presented by Dr. Jen at the 2009 Obesity Society annual meeting. The impressive results of this clinical trial include:

Mirafit fbcx is effective at reducing body weight without changes to diet or exercise program.
Mirafit fbcx lowers elevated levels of blood lipids.
Mirafit fbcx increases insulin sensitivity.
As with all treatment regimes, compliance was demonstrated to be essential in obtaining positive results. "Dr Jen was quoted as saying that, "We have previously demonstrated that Mirafit works for obese diabetics, this study demonstrates its effectiveness with overweight but otherwise healthy individuals."
How It Works
Unlike the new pharmaceuticals that are designed to alter brain function, Mirafit fbcx is a naturally occurring, soluble fiber that forms a very stable complex with dietary fat in the stomach. Mirafit is not absorbed into the blood stream thus has no effect on brain chemistry or metabolism. Fat that is bound into a complex with Mirafit fbcx is not available for absorption into the blood stream. As the fat remains bound while passing through the large bowel there are no unwanted intestinal side effects.
"Each 1-gram tablet of Mirafit fbcx binds and eliminates 9 grams of dietary fat. Nine grams of fat is 81 calories fat, taken as directed Mirafit fbcx blocks the absorption of about 500 calories or about 50-60% of one's dietary fat intake." said Dr. Jen.
The important results of this clinical trial could change the rules of dietary management. Subjects in preclinical trials have shown dramatic and consistent weight loss. Testimonials are available on the new page at mirafit.com. Employing this naturally occurring fiber, each 1 gram tablet binds 9 grams of dietary fat, effectively preventing the fat from being absorbed by the body.
Taken as directed, the recommended 2 tablets per fat-containing meal, results in a weight loss of 1 to 1.5 pounds per week or 4-6 pounds per month. The product is now available under the Mirafit fbcx trademark. US and Canadian and worldwide patents have been awarded to the ArtJen Company for Mirafit fbcx. Mirafit fbcx has been allowed by the FDA as a food supplement and has been approved by Health Canada as a Natural Health Product.
For further information please visit http://www.mirafit.com or call toll free number 1-877-427-8536.
###